Dolph Lundgren's Version Of Creed 2 Sounds Like A Huge Bummer, Here's What He Said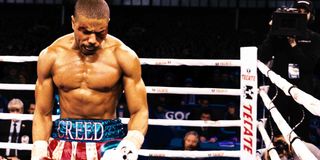 Last November, Ryan Coogler and Michael B. Jordan cemented their powerful partnership with the sports fueled spectacle that was Creed. With a modest budget, and a pretty healthy domestic haul that more than covered it, MGM's hopes for a sequel were validated, and still seem like a good possibility. However, when and if it's decided that Creed 2 is ready to go, they probably shouldn't ask Dolph Lundgren to write it, as his vision of Creed's future ends in his death at the hands of the hypothetical Ivan Drago Jr.
While TMZ Sports recently caught up with action star Lundgren on the street, the Expendibles star was given a fictional match-up that sounds like an all-too perfect setup for Creed 2: who'd win in a fight, Creed Jr. or Drago Jr.? The most shocking part about the whole affair is not the fact that Dolph Lundgren was already asked by a "talk show" to play "Lil' Drago," but rather the fact that Lundgren's thoughts on whether Adonis Creed would meet the same fate as his father are as follows:
Now while what Dolph Lundgren said was voiced with more of a sheepish agreement, as opposed to a braggart's pride, it's clear that the Swedish actor is pretty convinced that if there is an Ivan Drago Jr. out there, he's preparing for a rematch in the name of his family's legacy. In case you're not familiar with how Rocky IV put Apollo Creed in the ground, or if you just need a friendly reminder of how the first Drago v Creed match ended, you can watch that infamous scene below.
While we may not agree with the ending, seeing a Creed 2 that pitted the sons of Creed and Drago in the ring would be a hell of a concept. Thought, with the franchise just getting back onto its feet, Creed 2 would more than likely not take the story path that Dolph Lundgren has laid out. That having been said, the idea does lend itself to a fair amount of excitement. One could imagine that Ivan Drago and his family suffered a massive amount of shame after Rocky clobbered the Soviet combatant in Russia, at the height of the Cold War. So, obviously, that sort of shame can cast a darker version of the sort of shadow Adonis Creed found himself struggling to live up to in the first Creed film, leading Drago Jr. to be motivated to cause history to repeat itself.
However, knowing Ryan Coogler's steady hand as a writer and director, the dueling legacies that would hypothetically fuel Creed 2 would be more nuanced than the 1985 film's take on U.S. / Russian relations. Not to mention, there is more than a good chance that no matter what Dolph Lundgren says, Coogler wouldn't let Lil' Drago get away with murder as easily as the legendary heavy would believe.
That said, now's a good time to mention that Creed 2 does not have official movement behind it, and the next time you'll get to see Ryan Coogler and Michael B. Jordan collaborate, it will be on Marvel studio's Black Panther, which is currently scheduled for a February 16, 2018 release date.
Your Daily Blend of Entertainment News
Senior Movies Contributor
CinemaBlend's James Bond (expert). Also versed in Large Scale Aggressors, time travel, and Guillermo del Toro. He fights for The User.
Your Daily Blend of Entertainment News
Thank you for signing up to CinemaBlend. You will receive a verification email shortly.
There was a problem. Please refresh the page and try again.