Creed 2 May Bring Back A Beloved Side Character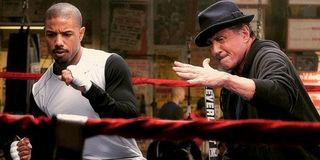 Creed was one of the success stories of the year. With Fantastic Four having flopped, it was integral that the hugely talented Michael B. Jordan have a quick follow-up success so that his career wasn't derailed. Creed was just that, going on to gross $103 million at the U.S. box office alone from a $35 million budget. A sequel was always likely, and that's now been confirmed by Sylvester Stallone, who has teased that it might bring one of the Rocky franchise's most beloved characters back from the dead.
But before you go dreaming up a cinematic scenario that sees Apollo Creed returning as a zombie -- something that we'd all clearly love to see -- Stallone has instead teased that the possible sequel might go back in time and bring back Carl Weathers. Now for those of you that don't know, Carl Weathers' Apollo Creed was killed in the ring in 1985's Rocky IV. But rather than letting a little thing like death stop the character in his tracks, Sylvester Stallone revealed that early conversations he's had with Creed's writer and director Ryan Coogler regarding the sequel would be inspired by The Godfather 2's non-linear approach and see the film set in the present and the past. Stallone explained to Variety:
Sylvester Stallone admitted that having recently run into Carl Weathers, the 67-year-old actor still has the frame and physique to excel in a boxing film. But what about Ryan Coogler and Michael Jordan's response to Stallone's Creed 2 revelations? Well, Coogler was rather shocked to hear Stallone being so candid, while Jordan was just puzzled by how they'd make it work, as he wondered if they'd have to use a CGI-version of the Italian Stallion.
Whichever way they decide to go with Creed 2, the boxing sequel is still definitely going to happen. MGM's CEO Gary Barber has already confirmed that the film will definitely take place because of the original's success, but it's still up in the air whether Ryan Coogler will be able to return as the film's director since he is currently in negotiations to oversee Marvel's Black Panther.
Stallone isn't too concerned about that though, admitting that even though the potential loss of Ryan Coogler would be a blow, he would still either be on board as a producer, or they'd just wait for him to finish on Black Panther before proceeding. However, since sequels are so in demand, Stallone admits that a speedy turnover is key to Creed 2's future so a decision will need to be made pronto.
We'll know more when Coogler confirms or denies his participation with Black Panther. But, either way, it sounds as though we can expect Creed 2 sooner rather than later. And maybe with Apollo back in the ring!
Your Daily Blend of Entertainment News