Paramount's Strange Excuse For Star Trek Beyond Doing Poorly Overseas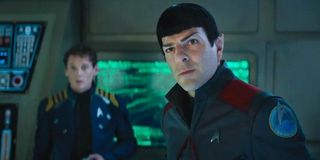 Considering how the summer of 2016 has been somewhat of a franchise killer, Star Trek Beyond made an impressive start at the U.S. box office over its opening weekend, as it hauled in $59 million. Sure that was behind its predecessors, 2009's Star Trek and 2013'sStar Trek Into Darkness, but it was solid enough. Star Trek's future is dependent on its performance overseas, though, which is why it's worrying that its numbers have been a little underwhelming. But rather than blaming themselves for its roll-out, Paramount have already decided that it was the sun's fault, citing a heat-wave for its haul.
As well as hitting cinemas in the U.S. on Friday, Paramount also released Star Trek Beyond across 37 other markets, which included the United Kingdom, Germany, and Australia. Both Star Trek and Star Trek Into Darkness performed well in these areas, but Beyond has so far only managed to bring in just $30 million. When asked by Deadline for reasons for Beyond's tepid showing overseas, Paramount Pictures insisted that it was the fault of the heat wave that has blighted most of the continent for the last few days. Looking at the numbers, Star Trek Beyond is already lagging behind Into Darkness, which over the course of its opening weekend back in 2013 made $31.7 million internationally as well as $70.1 million domestically for a total of $101.8 million. So far Beyond has made just $89.6 million.
But don't worry too much just yet, because in amidst the releases over the last few days Star Trek Beyond set the franchise's highest-ever weekend total in 17 markets, which included Russia, Thailand, and Taiwan.
Star Trek Beyond also still has quite a few more territories to hit before we really need to start worrying about its future. Not only will it be released in France, Korea, Spain, Brazil, Mexico, Turkey, Japan, and across Latin America between now and October, but it also still needs to be released in the world's second biggest film market China, too.
Star Trek Into Darkness fared reasonably well in China back in 2013, grossing $25.8 million over its opening few days before ending with $57 million. Don't forget, this was still at a point where Hollywood studios weren't taking the region as seriously as they do now, too.
Chinese audiences also have a history of attending screenings in IMAX, too, which is where Star Trek Beyond has already eclipsed the numbers put up by Into Darkness, as it amassed $3.2 million in comparison to the latter's $2.8 million.
At the moment, though, it already looks as though Star Trek Beyond will struggle to match Into Darkness' final total of $467.4 million. But there's still a chance that, with a healthy showing in China, Beyond will make it past Star Trek's $385.7 million.
Whether that's enough to convince Paramount to put the already announced Star Trek 4 into production remains to be seen, though. Let's hope they do, because not only has the franchise proven to be consistently enjoyable but it's already been tantalizingly teased that Chris Hemsworth will be returning as George Kirk, the father to Chris Pine's James T. Kirk, too.
Your Daily Blend of Entertainment News