This Rotten Week: Predicting Pete's Dragon, Sausage Party And Florence Foster Jenkins Reviews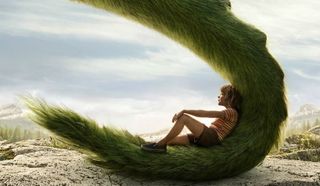 After another big superhero movie debuting last weekend, we have three movies on tap this week that are all geared toward totally different crowds. We've got kids with unusual pets, socialites turned bad opera singers, and dirty food. Get ready for Florence Foster Jenkins, Pete's Dragon and Sausage Party. It's gonna be a Rotten Week!
Pete's Dragon is a remake of the classic 1977 live-action/animation Disney film, and tells the story of a boy named Pete, who has spent years of his young life living in the woods being protected by a dragon. Frankly, it looks fantastic. It's never easy pulling off live action with something like a dragon (Daenerys and company aside), but director David Lowery the the Disney crew have come up with something special here, a beast both imposing and lovable looking.
Critics' early reviews are ranging well above positive (83% with 23 reviews posted), and many are lauding the heartwarming nature of the story, the visual effects, and the child-like nature of it all. The detractors do warn the story is a bit slow and unconstructed. Though for a kid's movie I think we get out of here well on the plus side.
Brought to you in part by Seth Rogen and Evan Goldberg, the dudes responsible for some of the funnier flicks of the last decade (Superbad, Knocked Up, Neighbors, This is the End to name a few), we now have Sausage Party coming to theaters - an animated movie whose title givens you the idea of its hard-R content right from the jump. This isn't a cartoon for kids, even in the slightest.
We don't always know what will be a cult classic, stoner favorite movie right away. With Sausage Party, I suspect we do. A loud, dirty, brash flick about food making their way through the trials and tribulations in life out of the store, the movie looks hilarious. Not all critics will take to the off brand humor and "dirty" laughs, but that's not really the target audience anyway. That being said, the early reviews are very positie. This is going after the 16-25 crowd, and it should be a hit. If it's a success with the critical crowd as well, even better.
Oh, to have money and passion, but no talent. At its heart, that seems to be the story of Florence Foster Jenkins, a woman who loved music, was rich, wanted to perform and couldn't sing a single note in key. I find it interesting making these kind of characters the protagonists (and yes I know it's loosely based on a true story) because on the whole they seem fun but difficult to connect with on a personal level. And yet it critics have taken to the story mostly on the back of Meryl Streep's performance. Streep is an all-time great, and is spending the latter part of her career delving more into these types of biographical comedies. It appears a solid choice.
Director Stephen Frears has had critical success before making movies with strong female leads, with titles like Philomena (92%) and The Queen (97%) on his resume. It appears he's done it again with early reviews incredibly strong (92% with 50 posted).
It was a very rough and sad week for the Rotten Watch last time around. This is mostly because I'm feeling bummed about Suicide Squad (Predicted: 75% Actual: 26%). I haven't seen the movie yet mostly because of the critical consensus. This is something I planned to see opening weekend for sure. I had such high hopes for the flick and have basically been watching trailers for a year straight, but critics mostly agreed the film was pretty much a mess. Slick, but without any depth or story at all. My prediction was way off the mark, of course, but more importantly, my emotions are in a fragile state right now. Off to the theater later to hopefully have a different view of things.
Meanwhile, Nine Lives (Predicted: 24% Actual: 5%) was even worse than expected. I wouldn't call this prediction a loss mostly because I had the overall tenor correct. I mentioned in my writeup that I lasted only 57 seconds into the trailer before calling it quits. Hence the low score. But it's hard to predict any movie under ten percent as that is total bottom of the barrel time. A man inhabits the body of a cat. I really should have predicted 0% (where it stood for some time during the week).
Next time around we've got Ben-Hur, Kubo and the Two Strings and War Dogs. It's gonna be a Rotten Week!
Your Daily Blend of Entertainment News
Doug began writing for CinemaBlend back when Terminator: The Sarah Connor Chronicles actually existed. Since then he's been writing This Rotten Week, predicting RottenTomatoes scores for movies you don't even remember for the better part of a decade. He can be found re-watching The Office for the infinity time.