A Beloved Michael Keaton Movie Is Getting The Broadway Treatment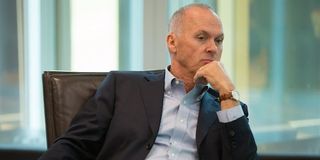 Michael Keaton has played a lot of memorable roles over his four decade career in Hollywood, from Bruce Wayne/Batman in Batman and Batman Returns to McDonald's mastermind Ray Kroc in The Founder later this year. However, most will agree that his portrayal of Beetlejuice in the 1988 same-named movie remains one of his most popular performances. Nearly 30 years later, the movie has become such a classic that it's getting a remake, but not for the silver screen. No, Beetlejuice will soon be adapted as a musical.
It was reported today by The New York Post that Tony-nominated writer and director Alex Timbers will helm a Broadway version of Beetlejuice that will premiere sometime in the 2018-2019 season. Timbers was previously getting primed to direct the Frozen musical, but he was let go, and now he'll turn his attention to getting Beetlejuice worked out with Warner Bros. His previous stage credits include directing The Pee-Wee Herman Show, Peter and the Starcatcher and Rocky: The Musical. Beetlejuice marks the latest movie to get the musical treatment, following behind the likes of Shrek, The Lion King, The Producers, Back to the Future and many more.
For those who need a refresher, Beetlejuice, directed by Tim Burton, was about a couple, Adam and Barbara Maitland, who were caught in a car accident and died. Now ghosts and learning the ins and outs of the afterlife, the husband and wife found themselves haunting their vacation home, which had subsequently been sold to the Deetz family. Not keen on how these new owners were changing their former house, Adam and Barbara summon Beetlejuice to scare them away, but the eponymous character quickly becomes too troublesome and chaotic to handle. Along with Michael Keaton, the original cast included Alec Baldwin, Geena Davis, Winona Ryder, Catherine O'Hara and Jeffrey Jones.
This musical news comes as plans to make Beetlejuice 2 seem to have stalled. There's been on-and-off talk over the last several years about whether Beetlejuice will ever get a sequel. The most recent update on the project came from Michael Keaton, who said it's possible that "ship has sailed" and how there was so much that would need to be done right, otherwise it wasn't worth making. Geena Davis also suggested that she wouldn't return even if Beetlejuice 2 did become a reality. There's a lot of obstacles, both practical and quality-wise, to making a comedy sequel decades later, but a musical adaptation allows for a fresh take on the movie. While there will obviously be changes to this retelling, both in story and pulling off certain special effects, Timbers and his creative team need to take care that their Beetlejuice is just as off-the-walls crazy as the original movie.
Stay tuned to Cinema Blend for the latest Beetlejuice developments, whether they're big screen-related or happening on the stage.
Connoisseur of Marvel, DC, Star Wars, John Wick, MonsterVerse and Doctor Who lore. He's aware he looks like Harry Potter and Clark Kent.
Your Daily Blend of Entertainment News
Thank you for signing up to CinemaBlend. You will receive a verification email shortly.
There was a problem. Please refresh the page and try again.