Disney Confirms It's Turning Frozen Into A Stage Musical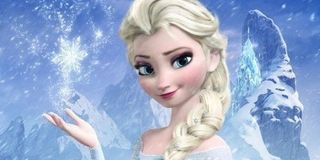 Just last week we posed the question of whether or not the runaway success of Disney's Frozen might earn the movie musical a flashy Broadway adaptation. Well, now's the time for Frozen fans to flip out because Disney execs have confirmed a stage version is in the works!
EW reports that Disney Theatrical Productions have revealed they are in the early stages of development on transforming the dual story of sisterly love and self-discovery into a jaw-dropping stage spectacle. Be warned though, mounting something suitably stupendous could take some serious time. Or as Disney CEO and chairman Bob Iger put it to Fortune magazine, "We're not demanding speed. We're demanding excellence."
But before you start looking up plane tickets to New York City, EW warns there has been little clarity about whether this stage production would be a full-on Broadway extravaganza, or perhaps a lower-key production intended for theatrical attractions in Disney's parks like Finding Nemo – The Musical. However, I can't help but comment that it would be positively insane for Disney not to capitalize on the massive popularity of the movie and its music in a way that could start on the Great White Way and then expand all across America in theatrical tours. I mean, that's what The Lion King's stage show did, and it's the only theatrical production to have made $1 billion to date. With Frozen racing to dethrone The Lion King movie as Walt Disney Animation Studios's highest grossing animated release, it's improbable the studios execs are not eyeing Broadway.
Besides Frozen is practically screaming to become a Broadway hit! Consider its cast, which is stacked with Broadway stars like Idina Menzel, Santino Fontana, Jonathan Groff, and Josh Gad. Along with Kristen Bell, they have already sold the songs as far as their Broadway potential. And the soundtrack itself has caught on in a major way, topping the Billboard Music Charts and winning widespread fan devotion online. Of course, that's little wonder since its songs were written by Avenue Q co-creator Robert Lopez his wife Kristen Anderson-Lopez. Basically, Disney can say whatever they want. But by pulling from Broadway as heavily as they have for this film, they were--in a way--developing an eventual Broadway show all along!
While it will likely be years before we see Frozen on Broadway, it's dizzying to think on what Disney's imagineers will come up with as far as additional songs, snow and ice effects, and how they'll translate the winsome Olaf into a live-action hero!
In the meantime, look for Aladdin to hit Broadway this February.
Staff writer at CinemaBlend.
Your Daily Blend of Entertainment News
Thank you for signing up to CinemaBlend. You will receive a verification email shortly.
There was a problem. Please refresh the page and try again.