This Rotten Week: Predicting Mechanic: Resurrection, Hands Of Stone And Don't Breathe Reviews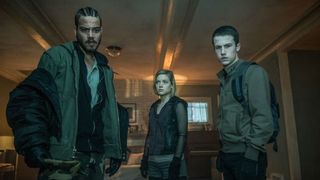 After months and months of some seriously big movies, summer is starting to finally wind down, and as a result we have ourselves a weekend with some smaller titles set to come out. We have three movies on tap, with a robbery gone wrong, a boxing story, and all the Jason Statham you can handle. Get ready for Don't Breathe, Hands of Stone and Mechanic: Resurrection. It's gonna be a Rotten Week!
In Don't Breathe, three young adults enter the house of a blind man intent on robbing the dude, only to find out they've stumbled upon the lair of a quasi-psychopath. Should they have robbed the house in the first place? Of course not. But you have to at least feel for this trio as they navigate their way through a Silence of the Lambs-like scene of torture and intensity. It looks scary as hell.
Don't Breathe is crushing it with critics right now, sitting at 87% with 15 reviews posted. They're calling it tense and thrilling. I can see why. Directed by Fede Alvarez, who also helmed the remake of Evil Dead (61%), it looks like he's touched on all the elements of a solid horror flick. Keep the pace moving and the scares intense. I usually make fun of horror movies because they are cookie cutter and ridiculous, playing on the same old tropes and cliches. But every once in a while something comes along that's worth watching. Don't Breathe, it seems, is just that.
Forgive me if I get a little turned around with the Jason Statham canon. There's The Transporter, Crank and the Mechanic Series. As far as I'm concerned these could all the same set of films. I don't see too many distinguishable features. Don't get me wrong, it's fine, they all look like a ton of fun. I just can't tell them apart - but I'm going to have to try this weekend with the return of one of the three franchises.
In Mechanic: Resurrection, Statham revives his role as a dude who jumps out of buildings, explodes the shit out of stuff, shoots dudes with deadly precision and always has the perfect one-liner to cap things off. My kind of film. It looks fun. Will it crush with critics? No, but I don't suspect that's the point. It's a chance for Statham to do Statham-y things, Jessica Alba to parade around on screen and Tommy Lee Jones to transform into some kind of evil twin of himself. I'm game. This film was made as end-of-summer fare. A chance to get out the popcorn, suspend disbelief and go through the action motions with as much high intensity killing and spying as possible.
For a sport that's quickly going the way of the dinosaur in terms of public buy-in and excitement, boxing still has it's way around Hollywood. A new boxing movie comes around seemingly once a year, more often than a headlining title bout is actually fought. At some point they'll simply run out of source material we'll have covered ever boxer without creating any new ones to tell stories about.
Hands of Stone tells the story of Roberto Duran's rise to fame during the 1960s and his "No Mas" bouts with Sugar Ray Leonard. My only issue going into this film is it seems, in very movie studio fashion, the flick focuses more on the old trainer (Robert de Niro) than it does on the actual fighter. I hope I'm wrong about this, but if the trailer is any indication, this is the path they chose.
I'm a little concerned this choice in narrative holds it back with critics. The timing of the release isn't fantastic either considering it's thrown in at the end of the summer. And again, this is a boxing movie given to a world increasingly bored with the actual sport.
During my last round of predictions, I must say that I did fairly well, with most of my picks landing in the golden 10% range. First off Ben-Hur (Predicted: 35% Actual: 29%) sucked. Man, I would have been really thrown off if critics liked this movie. Instead, they didn't. In fact, they called it words like "amateurish", "soulless", "eyesore", "weightless", and "stagnant." It's a remake that probably didn't need to happen.
Meanwhile, War Dogs (Predicted: 45% Actual: 59%) scored a bit better than I predicted. One of my initial worries about the movie was that while it looked slick and funny, the characters would be so unlikeable as to not have the viewer connect in any way with the story. I was wrong, and many critics cited Jonah Hill's and Miles Teller's superior acting skills as bringing the flick over the hump in this regard. It didn't rank off the charts or anything, but I was on the wrong of the reviews' tenor here.
And finally, Kubo and the Two Strings (Predicted: 91% Actual: 96%) finished in the upper echelon of the Tomatometer. We've seen plenty of animated movies do extremely well with critics this year, including both Zootopia and Finding Dory, so this really just continues an established positive trend. Let's hope we can see it continue for the genre in the rest of 2016.
Next time around we've got The Light Between the Oceans and Morgan. It's gonna be a Rotten Week!
Your Daily Blend of Entertainment News
Doug began writing for CinemaBlend back when Terminator: The Sarah Connor Chronicles actually existed. Since then he's been writing This Rotten Week, predicting RottenTomatoes scores for movies you don't even remember for the better part of a decade. He can be found re-watching The Office for the infinity time.