New Suicide Squad Photo Suggests A Much Darker Side Of Joker And Harley's Relationship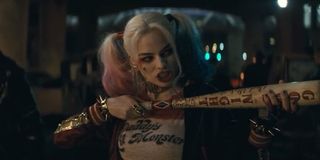 Warning: the image shown in this article will spoil Suicide Squad if you haven't already seen it. Continue at your own risk!
Few couples in the world of comic books have enjoyed the sort of iconography experienced by Harley Quinn and The Joker. Ever since their dysfunctional relationship was first established in Batman: The Animated Series, fans have adored watching their (literally) insane brand of mad love. David Ayer's Suicide Squad depicted the first ever live-action version of this romance, but it made some major changes to the way these two characters seemingly feel about each other. As it turns out, an earlier version of the film featured a far more faithful depiction of their traditional relationship. Check out the photo below to see more.
That photo, published by Rolling Stone Brazil, definitely presents a far different picture of the relationship between Jared Leto's Joker and Margot Robbie's Harley Quinn than the one seen in Suicide Squad, but it also is one that's far more familiar to fans of the source material. The picture in question comes from the scene in which Joker "saves" Harley from Task Force X in Midway City, towards the end of the film's second act. Although the theatrical cut of the movie paints the scene in an oddly romantic light, apparently David Ayer cut several moments from the final version that depict Joker as a legitimate verbal (and possibly physical) abuser, as he's seen specifically grabbing her and scolding her.
It's abundantly clear that the original vision for Suicide Squad was much darker in tone than what we finally got. As Batman News recently reported, Warner Bros. and DC seemingly got cold feet about another grim superhero outing after the lackluster response to Batman V Superman: Dawn of Justice, and it looks like they went in and tried to remove as much of the grittier content as possible while still maintaining the overall narrative. Whether or not this tonal change was successful really depends on your own specific tastes, as the film has become incredibly divisive over the last few weeks.
As a longtime fan of Joker and Harley's completely dysfunctional relationship, I have to say that I am fairly upset that the abuse was cut from the final version of the film -- which is a sentence I never thought I would write. Although it's obviously open for debate, Jared Leto's Joker often feels a bit too much like an actually loving and devoted significant other for Harley. The way he's depicted in Suicide Squad portrays him as legitimately caring, and it dulls the Clown Prince of Crime's edge in a major way.
Of course, there are those out there who thought that seeing Joker take a more caring approach to Harley Quinn worked for the film. Even eternal DC nerd Kevin Smith, a man that literally named his daughter Harley Quinn, found the lack of abuse to represent a palatable change of pace from the typical Joker and Harley romance. There's no right or wrong way to take this, it's all a matter of interpretation.
What do you think of the above photo? Do you like the idea of a more faithful adaptation of The Joker and Harley Quinn, or does the more romantic approach from the final cut of Suicide Squad work for you? Let us know what you think in the comments section below to keep the conversation going! Cinema Blend will keep you up to date with any and all relevant information related to Suicide Squad as more details become available to us. The DC supervillain team-up is in theaters now; make sure to check it out!
Originally from Connecticut, Conner grew up in San Diego and graduated from Chapman University in 2014. He now lives in Los Angeles working in and around the entertainment industry and can mostly be found binging horror movies and chugging coffee.
Your Daily Blend of Entertainment News
Thank you for signing up to CinemaBlend. You will receive a verification email shortly.
There was a problem. Please refresh the page and try again.