Ron Perlman As Swamp Thing? Here's What The Hellboy Star Says About It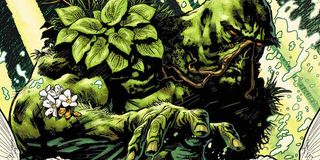 The world of cinema needs more Ron Perlman. We're yet to see the splendid thespian on screen this year, which will change when The Bleeder premieres at the Toronto Film Festival next month and Fantastic Beasts And Where To Find Them is released in November. One of the many roles that Ron Perlman has long been linked with is Justice League Dark's Swamp Thing, but now, disappointingly, Perlman himself has come out and dismissed this speculation.
After it was announced yesterday that Doug Liman had stepped into the void to direct Justice League Dark, it was hoped that this would be immediately followed by the announcement that Ron Perlman will be playing Swamp Thing. However, Perlman was quick to bat away such ideas. Instead he told ComicBook.com that the online chatter that he'd star in the film was nothing more than "urban myth Internet noise."
But that's not to say that Ron Perlman isn't on the hunt for another comic-book role. Because early on Thursday morning he took to Twitter to insist that he wants to join in the fun over at Marvel Studios. After Ron Perlman was asked by @BoMoMuCo, "When r u getting a marvel character call?," he posted:
Of course, Ron Perlman's place in the comic-book cinematic pantheon is already confirmed thanks to his starring roles in both Hellboy and Hellboy II: The Golden Army. These saw him play the titular role and were adored by most moviegoers, even if their combined box-office receipts of just under $260 million were a little underwhelming.
But what Ron Perlman's performances as Hellboy prove is that he'd be rather perfect as DC's Swamp Thing, who is a humanoid mass of vegetable matter that looks to protect his swamp, as well as the environment and humans from an array of villains. As Hellboy, Perlman brought a rugged, gruff humanity to the demon raised as a human, something that he could have easily translated to Swamp Thing.
Unfortunately, that doesn't look likely now. Unless Doug Liman, who is believed to have left Gambit for Justice League Dark, can convince Ron Perlman to join the blockbuster, which is set to include John Constantine, Deadman, Zatanna, and Etrigan the Demon. We're still waiting for news on Justice League Dark's possible release date, but with Liman directing, Scott Rudin producing, and Michael Grillo writing it's almost certainly a go and is believed to play a major part in the burgeoning D.C. Cinematic Universe.
Your Daily Blend of Entertainment News
Thank you for signing up to CinemaBlend. You will receive a verification email shortly.
There was a problem. Please refresh the page and try again.