Hellboy 3 Will Be Mind-Blowing, According To Ron Perlman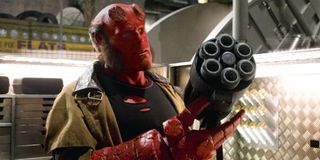 Ron Perlman's mission to get Hellboy 3 made continues. The actor is trying to tap into the fan base to drum up buzz for a third installment of the comic book franchise, but so far a studio has not green lit a return adventure. That hasn't stopped Perlman from talking up a storm. In a recent interview, he teased the story for Hellboy 3, and if you liked the first two films, apparently you'll be blown away by the third.
Perlman told Variety in an interview that, essentially, fans should all be backing this film because it has a mind-blowing nugget that will send them all into a collective geek out. He said,
I'm surprised he didn't say "mind-blowing" at least three more times.
Earlier this month, Perlman took to Facebook and Twitter to try and utilize the power of social media to finally get a studio to sign off on Hellboy 3. He wrote, "Let's get this muthafucka trending, y'all." And they did. Headlines littered the blogosphere and Perlman's updates garnered more than 20,000 retweets and nearly 16,000 favorites on Twitter, and nearly 90,000 likes on Facebook. If you recall, Deadpool went through a similar situation, though one not so direct. Director Tim Miller and his star Ryan Reynolds had been fighting to see Deadpool properly realized on the big screen with a solo movie, but Fox wasn't signing off on the project. That is, until a certain leaked piece of test footage started making the rounds and became a viral hit. With the fans behind the project, the studio green lit it for production, and now Deadpool is getting released on February 12 of next year. Could the same happen for Hellboy 3?
Guillermo del Toro previously teased the plot for a potential Hellboy 3. While the first two films played up Big Red's destiny — he's a beast designed to herald the arrival of the apocalypse — the third film would see Hellboy embracing it, ironically becoming a much darker being in order to save humanity. Perlman recently clarified that he doesn't know what the outcome of this social media battle will be, but he will continue to fight for Hellboy 3. Because no one, it seems, wants to make the film more than Perlman.
Your Daily Blend of Entertainment News