Michael Bay's Transformers 5 Video Packs A Crazy Car Crash, Fire, Drones, And More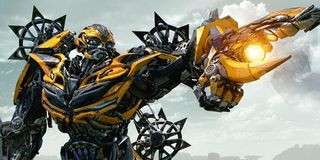 You can hate Michael Bay all that you want, but gosh darn it does he love making movies. The bombastic director's love of being on a movie set has been plainly evident throughout his time working on Transformers: The Last Knight, which he has kept movie fans up to date with a nearly daily basis courtesy of his Instagram, Twitter, and Facebook accounts. One of the director's most recent videos is pure Bayhem in its purest form, featuring a cavalcade of chaos that unfolds at break-neck speed. You can now devour the clip below so that you can appreciate the footage in all of its glory:
Don't you just love his enthusiasm? There have many reports and tales of just how invigorating and enthusiastic Michael Bay is during productions of his hundred million dollar blockbusters, and this is the prime evidence of the bundle of energy that he brings while working on these projects.
There's so much that unfolds in the above video that it's actually a little hard to keep up. As Bay informs us right at the very start of the video, the clip actually shows us what's called a "sidewinder," which appears to be when a car is purposefully crashed for a shot. In amidst the chaos we not only get to see an English police car being flipped onto its rooftop, but there's a flying drone above the action, which we can only assume was used to get extra footage, and there's also an explosion and some fire for good measure, too.
Michael Bay appears to have everything under control, though. Telling his crew to rush in and make sure that the fire is extinguished before it gets out of control, and he even briefly showcases his ability as a doctor by insisting that the stunt driver is fine because he can see him moving, Who knew that Michael Bay was a man of so many talents?
As of yesterday, Michael Bay and his Transformers: The Last Knight crew have now moved production to the United Kingdom. As per usual, Michael Bay was rather unassuming upon his arrival to the country, as he interrupted the qualm, quaint countryside of Scotland with the roars of a helicopter.
Transformers: The Last Knight is the fifth instalment to the Transformers franchise, and it will once again see Mark Wahlberg return after his excursions in Age Of Extinction, while he'll be joined this time around by Josh Duhamel and Tyrese Gibson. We'll finally get to see Transformers: The Last Knight when it's released on June 23, 2017.
Your Daily Blend of Entertainment News
Thank you for signing up to CinemaBlend. You will receive a verification email shortly.
There was a problem. Please refresh the page and try again.