This Rotten Week: Predicting The Light Between Oceans Reviews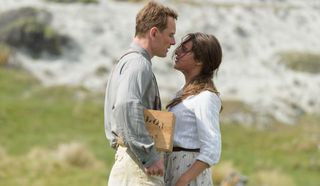 The end of August has never been seen as the richest part of the release calendar, which explains why we don't have a ton of stuff arriving in theaters this Friday. We have only one movie on tap this, week with a mysterious baby washing up on a beach in a basket. Get ready for The Light Between the Oceans. It's gonna be a Rotten Week!
Just remember, I'm not reviewing these movies, but rather predicting where they'll end up on the Tomatometer. Let's take a look at This Rotten Week has to offer.
I live near the beach and try to make a walk to the ocean at least once a day. So I think I can honestly make a judgment about what's going on in The Light Between Oceans. If on one of those daily pilgrimages there was a basket washed ashore with a crying baby in it, my first instinct wouldn't be, "You know what? I should keep this baby." Now perhaps I don't have the motherly instinct necessary to completely understand this flick, but the story went off the rails for me at that exact moment watching the trailer.
This isn't to say The Light Between Oceans will be a bad movie. Likely far from it, but the story of a young couple finding a washed up baby while in mourning over their own lost child does present some narrative leaps of faith. That being said, director Derek Cianfrance has a solid critical resume so we may need to benefit of the doubt him here. Flick like The Place Beyond the Pines (80%) and Blue Valentine (88%) are dark, character-driven films that, while not exactly uplifting, were engrossing in their stories and pace. This latest looks a little different in it appears a bit more Nicholas Sparks-y than those others, but dude's got chops so I'm a little torn.
It was a really strong week for the Rotten Watch last time around with two out of the three movies falling within the win range. First off, Don't Breathe (Predicted: 85% Actual: 87%) remained a big hit with critics. It isn't easy for a horror/thriller to finish this high on the Tomatometer, mostly because the genre has more than its fair share of films falling in the same hokey, recycled category. But this one appears to bring something new with less of the supernatural and more of just a person vs. person scary, trapped in a house vibe. Critics were all over it.
Hands of Stone (Predicted: 51% Actual: 47%) was another prediction win as critics felt lukewarm on the flick as a whole. I predicted as much in my write up. It just seemed the film was trying to hit on all the wrong notes for a boxing film in that it appeared more about the elderly trainer than it did about the actual boxer. Critics felt it never truly honed in on the story and ended up somewhere in the middle on the true "inspiration" of Duran.
And finally, Mechanic: Resurrection (Predicted: 47% Actual: 25%) was a miss. My mistake here was thinking critics might come in to the theater already knowing they were getting a cheesy action/ summer-popcorn flick and rate it more in the middle. It's tough with these movies because some (think Fast and Furious for example) score well because critical expectations are set early. I don't know if that was the case here, but it was a miss on the Tomatometer.
Next time around we've got The Disappointments Room, Sully, When the Bough Breaks and The Wild Life. It's gonna be a Rotten Week!
Your Daily Blend of Entertainment News
Doug began writing for CinemaBlend back when Terminator: The Sarah Connor Chronicles actually existed. Since then he's been writing This Rotten Week, predicting RottenTomatoes scores for movies you don't even remember for the better part of a decade. He can be found re-watching The Office for the infinity time.