Paramount Is Bracing For A Huge Loss With One 2017 Film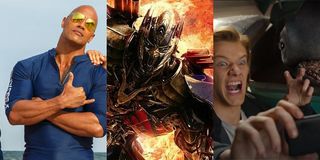 2016 has been a mixed year for Paramount Pictures. While the studio has had a few successes with features like Everybody Wants Some!!, Star Trek Beyond and 10 Cloverfield Lane, there have also been quite a few failures either critically or commercially (or both), like Ben-Hur and Zoolander 2. Paramount could still bounce back a little bit before the year is up with projects like Jack Reacher: Never Go Back and Arrival, but unfortunately, it looks like they're already off to a rough start in 2017. That's right, that year hasn't even begin yet, but their blockbuster Monster Trucks is already shaping up to be a huge loss months.
According to THR, Paramount is taking a $115 million write-down to earnings for one of their upcoming 2017 movies, thus lowering its forecast for the fourth fiscal quarter. They didn't specially name which movie is predicted to perform miserably, but Monster Trucks is strongly believed to be the culprit, as the movie was reportedly made on a $100 million budget. When you factor Monster Trucks with the other losses Paramount has suffered in 2016, one analyst predicted that the studio could lose approximately $500 million this year despite having areas where they have shined.
While it's certainly a shame that Paramount is losing so much money, assuming Monster Trucks is indeed the project responsible, it is beyond absurd that it received such a high budget. The only movies that are usually given that much backing hail from influential properties, like Marvel, DC, Star Wars and Star Trek. Monster Trucks, on the other, is a brand new franchise with no preexisting fanbase and no awareness whatsoever from the public said from what was shown in that first, and so far only, trailer. Whoever decided it was worth pouring $100 million into this should have had their brain examined. On top of that, the fact that it seems to be more geared towards children rather than something that people across all ages could enjoy won't help with putting butts in seats. Let's also not forget that January is a notorious dropping-off month for movies that aren't expected to do well.
Combining live action with CGI, Monster Trucks follows a high school senior named Tripp, played by X-Men: Apocalypse star and new Macyver Lucas Till. Soon after building his own monster truck, Tripp comes across a strange, yet friendly, monster that is able to squish itself into his ride and control it on its own. See? The title is a play on words, people! Anyway, as these alien stories often go, outside forces eventually discover the monster and intend to do it harm, leading Tripp to work with his friends and allies to keep it and the other truck-controlling monsters safe. The cast also includes Jane Levy, Amy Ryan, Holt McCallany, Rob Lowe and Danny Glover.
Following numerous delays for more than a year, Monster Trucks finally hits theaters on January 13, 2017.
Connoisseur of Marvel, DC, Star Wars, John Wick, MonsterVerse and Doctor Who lore. He's aware he looks like Harry Potter and Clark Kent.
Your Daily Blend of Entertainment News
Thank you for signing up to CinemaBlend. You will receive a verification email shortly.
There was a problem. Please refresh the page and try again.