MacGyver Review: CBS's New Drama Is Good Friday Night Fare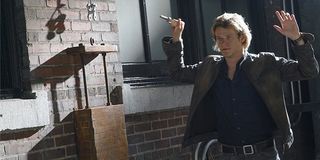 Everything old has become new again on TV in recent years as most of the major networks have begun rebooting and reviving old series for another go at primetime. One of CBS' most highly-anticipated new shows is the MacGyver reboot that is retooling the classic story of a guy who can use everyday objects to save the day for a 21st century audience. The new MacGyver is a series with the potential to win big or spectacularly flop in its return to primetime. As it turns out, MacGyver 2.0 is perfect for what it is: a mostly family-friendly Friday night show with a lot of adventures but not a ton of plot.
MacGyver jumps into the action right away during the pilot. Twenty-something Angus "Mac" MacGyver (Lucas Till) is in the middle of infiltrating a mansion to steal a weapon from some seriously bad guys. He introduces via voiceover his girlfriend/tech goddess Nikki Carpenter (Tracy Spiridakos) and former CIA agent Jack Dalton (George Eads). There's a heist involving some classic MacGyver improvisation, a boat chase, and a hostage situation in the first few minutes of the series. The team goes through some changes after their latest mission as Mac and Jack convince their boss (Sandrine Holt) at the Department of External Services (DXS) to bring rebellious computer genius Riley Davis (Tristin Mays) on board as a new member of the crew. The newly expanded team works together to stop some sinister people from using a biological weapon to kill millions, all while Mac tries to maintain his cover story to his best friend/roommate Wilt Bozer (Justin Hires).
The MacGyver pilot is surprisingly straightforward for an episode that features a main character narrating a bunch of crazy ways to save the day with regular household items. Fans of the original MacGyver should be tickled to see that Mac busts out his handy dandy paper clip at a few key moments. The reboot ran the risk of either sticking too much with the old school methods of improvisation or relying too heavily on modern gadgets to get the jobs done. The pilot does a good job of balancing the importance of technology in 21st century crime-fighting with Mac's love of using office supplies and cleaning agents to best his opponents.
Possibly the most successful element of the MacGyver pilot is the way that it uses a team dynamic to battle the bad guys rather than just relying on Mac in the field. Mac definitely does most of the heavy-lifting when it comes to cracking safes and escaping explosions, but Jack, Nikki, and Riley are all essential at various points. Even if Mac is the hero, he needs backup to survive as a secret agent.
The show could probably do without Mac's narration, although his continuing voiceover works better than some of the early exposition dumps. Mac falls into a classic pilot pitfall by explaining a mission to his team after they had already begun the mission. MacGyver will need to find a way to use the narration to better incorporate exposition in the future. Given that this is the pilot and pilot episodes for series are notoriously shaky, however, we can probably give the show a break for falling short a few times in its premiere.
The cast is strong enough. There are no powerhouse performances coming out of any of them, but nobody really fell short. Lucas Till strikes the right balance between lightness as a man who loves solving problems and seriousness as a man tasked with saving millions of lives. George Eads pulls off the best comic relief of the pilot as a muscle man who is as effective in the field as he is ineffective with charming ladies. The episode makes the wise move of keeping Jack from seriously hitting on the women of the main cast, so he comes across as funny rather than sleazy. Sandrine Holt is solid as DXS boss Patricia Thornton, and Tracy Mays could be fabulous as Riley as long as she is able to see past her mop of hair. Tracy Spiridakos strikes an ambiguity as Nikki that could serve her well in the long run.
If there is a weak link among the cast, it would have to be Justin Hires as Wilt Bozer. To Hires' credit, however, the writing for Justin in the premiere is pretty terrible. The pilot episode makes sure to mock his job as a fast food operator before the hour is up, and it's clear from his very first scene with Mac that the show is going to dumb him down in order to keep Mac's secret safe. Hopefully Hires will get more to do than make waffles and be oblivious as Justin in the future of the series.
MacGyver is an inoffensive series with crazy adventures, vehicular chases, and a guy who can make anything out of nothing to save the day. There are enough laughs and scares that the series may be worth watching even if it's not especially engaging. In fact, MacGyver could be a winner for anybody looking for a family-friendly series. The pilot is probably a bit too explosive and violent for the youngest of viewers, but there isn't much in the way of swearing, and most of the adult elements were present via implication rather than demonstration. Parents may want to give the episode a chance before letting kids tune in, and they almost certainly want to clarify to the youngsters that MacGyver is definitely a "Do not try this at home" sort of show. Still, it could be fun for the whole family.
All in all, MacGyver is a perfect show for folks looking for an easy series on a Friday night that doesn't require a lot of thinking but has enough excitement to hold attention for an hour. Even if it's not the best new series of the 2016 - 2017 TV season, it may find a nice niche in its time slot.
MacGyver premieres on Friday, September 23 at 8 p.m. ET on CBS. Check out our fall TV premiere schedule to see when your other favorites will hit the airwaves in the near future.
Your Daily Blend of Entertainment News
Laura turned a lifelong love of television into a valid reason to write and think about TV on a daily basis. She's not a doctor, lawyer, or detective, but watches a lot of them in primetime. Resident of One Chicago, the galaxy far, far away, and Northeast Ohio. Will not time travel, but will sneak references to The X-Files into daily conversation.