5 Awesome Things The Star Wars: Rogue One Trailer Revealed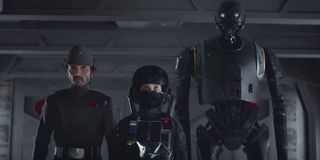 This morning, the final Rogue One: A Star Wars Story dropped, likely giving us the last look at Gareth Edwards' experimental standalone feature before it finally reaches theaters on December 16. Did you watch the new trailer yet? We're about to break it down in full, so you should probably catch up on it, first. Dig in!
As most of you already know, this new Star Wars movie actually takes place in an older time, back before the original Star Wars movie, A New Hope, yet after Anakin Skywalker has assumed his evil identity in Revenge of the Sith. In this era, the Empire is extremely powerful, and the Rebellion -- before Han, Luke and Leia -- is still scrambling to find a solution to the Empire's oppressive regime. There was a lot of cool new details packed into that Rogue One trailer, but I feel like we HAVE to start with the saga's most famous antagonist.
Darth Vader's Here... Sort Of
Fans keep wondering just how much Darth Vader we're going to get in Rogue One. And with each passing trailer, including this newest one, the answer appears to be, "Not much." The Sith Lord has been teased, but never heard (even though James Earl Jones made headlines by recording new Vader dialogue recently). And in this new trailer, we see him sharing a scene with primary baddie Orson Krennic (Ben Mendelsohn) but not doing much else.
Part of me held on to the hope that Darth Vader would get a massive fight scene in Rogue One, that he'd wield that red lightsaber and threaten to stop Jyn Erso (Felicity Jones) in her tracks. I'm letting that belief go. If it happens, I'll be surprised -- and thrilled. But I think Vader's getting relegated to cameo status in Rogue One, and I'm starting to lower my expectations for him.
We're Getting Space Battles!
Because we're closer to the December release date on Rogue One: A Star Wars Story, the visual effects wizards at ILM are further along in their process, meaning we're able to see more of the battles and combat sequences that director Gareth Edwards will deliver. So much of Rogue One has been advertised as a boots-on-the-ground war picture that the site of X-Wings zooming through outer space was a welcome reminder that this is a space opera, as well! We can't wait to see how much aerial combat Edwards is able to bring to the screen in December.
Fallen Jedi Are A Stark Reminder
This stark image is another reminder of the events that have occurred leading into the time of Rogue One. The Jedi, once a dominant force, have been decimated. Anakin Skywalker, having transformed into Dark Side leader Darth Vader, has murdered countless Jedi and sent the survivors into hiding. When we attended Star Wars Celebration in London this past summer, Gareth Edwards told us about the planet of Jeddah, where the Force and the ways of the Jedi are still worshipped. I'm thinking this fallen statue (a nod to the way Obi-Wan Kenobi dies) could be found on Jeddah, and it reminds us how far the Jedi Order has slipped since Vader has risen to power.
Young Jyn Erso Will Shape This Story
This makes me very excited. When Rogue One hired Mads Mikkelsen to play Jyn Erso's father, Galen, I was afraid the spectacular actor would be relegated to the sidelines. Because Edwards is wisely making this movie a Jyn Erso-centered story, however, we're also going to get flashback that both establish more of her personality, AND give Mikkelsen a chance to shine in this universe. I think scenes with Young Jyn Erso will go a long way to establishing her as a hero for which we want to root. Much of Rogue One's success hinges on her conversion into Rebel freedom fighter, so showing us who Jyn was a child -- and the horrible events that shape her world view -- will fill in Rogue One story gaps. These flashbacks are essential, and I'm thrilled to see them in this last trailer.
K-2SO Could Steal The Show
But where's the humor? Unlike, say, the DCEU, Star Wars always has been able to balance its political statements with heaping helpings on on-screen cinematic entertainment. I have a feeling that the comic relief in Rogue One will fall to a droid (as it often has done in the past), so for that, we turn to K-2SO, a former Empire droid who has been reprogrammed... sort of. From what we have heard, K-2SO is still wired like an Empire servant, and speaks his mind in extremely blunt terms. But, in this funny looking screen grab, he'll be part of an undercover mission with Felicity Jones and Diego Luna. I just want to see where THIS scene goes!
Rogue One: A Star Wars Story hits theaters on December 16, and I think this is the last bit of footage that we will see before then, outside of TV spots that might slip in quick new shots. We know you likely are on board for the new movie, but what did YOU see in here that piqued your interests? Share it in the comments section below. And if you want to watch that trailer one more time, we have it on the next page.
Your Daily Blend of Entertainment News
Sean O'Connell is a journalist and CinemaBlend's Managing Editor. He's frequently found on Twitter at @Sean_OConnell. ReelBlend cohost. A movie junkie who's Infatuated with comic-book films. Helped get the Snyder Cut released, then wrote a book about it.