Warner Bros Is Planning 2 Huge Event Movies, But Which Ones Are They?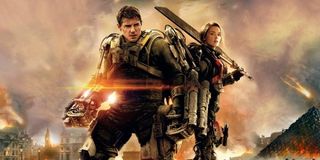 These days, it's not about the movies you have coming to theaters, it's also about the weekends you have locked up years from now. With so many mega-blockbusters on the horizon, studios need to speak up years in advance to claim prime opening weekends for movies that they haven't even started, but really hope to make some day. Usually, it's a sequel in an established franchise. Sometimes, though, it's just a gamble on a project that a studio exec thinks has a great shot at connecting with a wider audience.
To that end, Warner Bros. recently circled two release dates in the appointment book of Captain Future, telling us only that Sept. 27, 2019 and February 7, 2020 will be placeholders for the ever popular "Untitled WB Event Film." With only that to go on, we're going to put on our sleuthing hat and try to figure out exactly what that might mean (and yes, a Sherlock Holmes sequel will be one of our guesses). But let's start where Warner Bros.' bread currently is buttered, and that's the DC Extended Universe:
Ben Affleck's The Batman
Listen, I honestly don't think that either of these two dates are reserved for DC movies. Here's why: When DC announces release dates for DC movies, ever future ones WAY off in the distance, they claim them as DC Release dates. This is how Box Office Mojo has dates penciled in for Untitled DC Films on Oct. 5, 2018, April 5, 2019 and November 1, 2019. Still, we know DC and Warner want to make a Batman movie with Ben Affleck, so it's possible that film lands on one of these dates. If NOT Ben's Batman movie...
Suicide Squad 2
A sequel to David Ayer's villainous mash up certainly could be in the works at Warner Bros. After all was said and done, Suicide Squad ended up having a healthy box office run, landing in a great end-of-summer window that allowed it to linger near the top of the box office for weeks. There's talk of a Harley-led female-villains movie. That's a possibility, as is...
Wonder Woman 2
By the time we roll around to these dates in 2019 and 2020, it will be time for Gal Gadot to follow up her initial turn as Diana Prince in her solo Wonder Woman movie. That is, if people fully support Gadot as Wonder Woman. The character also will be on screen in Justice League, but a Wonder Woman 2 could be in order if Patty Jenkins' first movie is a smash hit.
But what if these dates AREN'T reserved for the DCEU. Warner Bros. actually has plenty of other options. Read on.
San Andreas 2
Powered by Dwayne "The Rock" Johnson and some decent special effects, San Andreas nabbed $473 million at the global box office. To no one's surprise, a sequel has been announced -- though no date has been revealed. Nailing down The Rock's busy schedule is a chore. Between Fast & Furious films and one-off projects like Baywatch or Jumanji, the leading man stays busy. But seeing as how WB wants this franchise to continue, I could easily see San Andreas 2 taking one of these dates.
Fantastic Beasts And Where To Find Them 3
By all accounts, this year's Fantastic Beasts and Where to Find Them is the launch of a trilogy of films built around Eddie Redmayne's new character, Newt Scamander. The studio's already confident enough in the first movie that they have dated a sequel, and the screenplay -- according to reports -- is underway. That film even has a November 16, 2018 date, which means (with a two-year cycle in mind) a 2020 release date for the third and final Fantastic Beasts movie makes all the sense in the world.
Edge of Tomorrow 2
Now we're getting into Warner Bros. movies that have been mentioned, sometimes frequently, but haven't had enough wheels turn that we can say they are guaranteed. Still, with dates starting to get hammered out, an Edge of Tomorrow 2 absolutely could be on the docket. And here's why: Tom Cruise is working on Mission: Impossible 6 right now, and doesn't have a third Jack Reacher in the works. Edge writer Christopher McQuarrie has said he has the right idea for a sequel, so WB backing them into a release date could be the fuel that the Tomorrow 2 fire really needs.
Godzilla 2
Godzilla is going to be a big part of WB's future. After next summer's Kong: Skull Island, the studio has a date for King Kong vs. Godzilla (Dawn of Justice?), but what about a second standalone movie for the King of the Monsters? Here's why I think this could be a possibility. Gareth Edwards is done with Rogue One: A Star Wars Story. I don't think that story is structured in a way that he'd do a sequel, and he has expressed interest in doing Godzilla 2. Maybe Kong v. 'Zilla eliminates this from the studio's wish list, but with these two new dates, I'm putting this back in the mix.
Ocean's 9
Again, we're projecting. But next year, the Ocean's franchise is getting a jump start with a female cast led by Sandra Bullock and Cate Blanchett. It sounds fantastic, and we're really hoping it works. If it does, a second one could be penciled in for 2019 or 2020. In fact, once I landed on this one, I realized that if the female Ocean's can pull off a trilogy the same way that Clooney, Pitt, Damon and their dudes did, they'll have Ocean's 8, 9 and 10... leading right into the original 11. And I like math, so I put this one down as a possibility.
Sherlock Holmes 3
Finally, another movie that has been talked about often, but hasn't quite moved into greelight territory. Robert Downey Jr. and Jude Law have had real success as a big-screen Holmes and Watson, but the former has been wrapped up in Tony Stark land, and hasn't returned to the silver-screen sleuthing role since 2011's Sherlock Holmes: Game of Shadows. Downey has spoken about the desire to do one more Sherlock Holmes, and him returning to that role would, indeed, be an event. I think this one is a bit of a longshot, especially with Guy Ritchie off remaking Aladdin. But it's possible, so it goes on the list.
Your Daily Blend of Entertainment News
Sean O'Connell is a journalist and CinemaBlend's Managing Editor. He's frequently found on Twitter at @Sean_OConnell. ReelBlend cohost. A movie junkie who's Infatuated with comic-book films. Helped get the Snyder Cut released, then wrote a book about it.