Wonder Woman Movie: What We Know So Far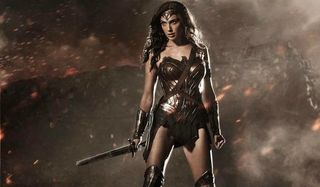 Every time we talk about Zack Snyder's Man of Steel follow-up here on CinemaBlend, we refer to it by its official name, Batman v Superman: Dawn of Justice. This is certainly an accurate title, as the film did feature the titular heroes squaring off, but it leaves out the third big player who got her live-action feature debut in the project: Wonder Woman.
The great Amazonian superhero was introduced in Snyder's movie when it hit theaters on March 25, 2016. While it was originally unclear how screenwriters Snyder, David S. Goyer and Chris Terrio (Argo) planned to use Princess Diana of Themyscira in the film, she played a key role in the movie, by acting as a foil to Bruce Wayne, helping Batman and Superman defeat Doomsday, and teaming up with Bruce Wayne to assemble the Justice League in the wake of Superman's death.
We're still waiting on a lot of answers to our most pressing queries, but for now, let's dig into everything we know about Wonder Woman's cinematic future, as Warner and DC Comics try to get their collective act in gear and keep pace with the Marvel Cinematic Universe. Let's start by taking a look at the most recent trailer for Wonder Woman.
Man, I have to say, that looks amazing, doesn't it? Now, let's get down to what we know so far about Wonder Woman and her upcoming big screen adventure!
What Is The Wonder Woman Rating
The MPAA recently came out and slapped Wonder Woman with a PG-13 rating, which should come as no surprise to anyone who has kept up with the superhero genre in recent years. No DCEU film has received an R-rating for a theatrical release, and while there have been rumors that DC is toying with the possibility of an R-rated movie somewhere down the line, the odds of Wonder Woman being the film to receive that rating was always slim to none. Wonder Woman specifically received its PG-13 rating "for sequences of violence and action, and some suggestive content," which means that the WWI setting and Diana's romantic entanglement with Steve Trevor were likely the two biggest contributing factors.
What Is The Wonder Woman Release Date
For months there was plenty of buzz going around pointing to the idea that a Wonder Woman movie was in the works at Warner Bros., but what once was merely rumor has now been official fact for quite some time. The studio has confirmed that the heroine and her very own film will be coming to theaters this summer, on June 2, 2017 -- five months before Justice League is released. This will allow the Wonder Woman character to become more fully fleshed out and understood by more casual members of the audience before she takes on a stronger leadership role during the events of Justice League.
What Is Wonder Woman About
Wonder Woman is a flashback film that centers on Diana Prince's introduction to the world during WWI. Based upon everything that we have seen from the trailers, it opens on her training to becoming the most highly skilled Amazon warrior (and best fighter in the DC universe) until Steve Trevor (Chris Pine) crash lands on her home island of Themyscira. Upon learning of the horrors of WWI, Diana chooses to leave her home and embark on an adventure to save the world from destruction. The WWI setting is of particular importance, as it indicates the fact that Wonder Woman's arch nemesis Ares (a being who feeds on conflict) is pulling strings behind the scenes to plunge the world into complete and utter chaos.
The Director
Helming the Amazon warrior's solo movie is Patty Jenkins, who previously directed the 2003 movie Monster (seen above), as well as episodes of Arrested Development, Entourage and The Killing. Originally, Michelle MacLaren, best known for her work on Breaking Bad and Game of Thrones, was hired in November 2014 to direct Wonder Woman, but in April 2015 she left the project. Her departure was attributed to creative differences, with one report saying she wanted to make the movie a Braveheart-Style epic while Warner Bros. wanted it to be more character-centric. Fortunately, the studio was able to recruit Jenkins only days later, and after dropping out of directing Thor: The Dark World for Marvel years earlier, she's finally getting the opportunity to oversee a superhero movie.
Gal Gadot - Wonder Woman
After decades of staying off the big screen (minus that cameo in The LEGO Movie), there's finally an actress to play a cinematic Wonder Woman. Israeli beauty Gal Gadot landed the part back in December 2013, Zack Snyder stating at the time:
Some audiences discovered Gadot already. She played Gisele in the last three Fast & Furious movies, and had parts in Date Night, Knight & Day and Triple 9. But there's no question that Wonder Woman is the biggest role the actress has ever attempted.
Chris Pine - Steve Trevor
For months, it seemed like Star Trek's new Captain Kirk Chris Pine was a prime contender to be the DCEU's new Hal Jordan, but in July, it was announced he will be playing Steve Trevor, Wonder Woman's love interest. Pine signed a multi-picture deal, so we'll almost certainly see him in any greenlit sequels. More importantly, it looks like he'll be playing two different men from the Trevor lineage in the first movie. Behind the scenes photos show him wearing World War I-era clothing and on the 100 year-old looking set in England. It was reported that this individual is Trevor's grandfather (or great-grandfather, more likely), who crash-lands on Themyscira and helps Diana fight Ares (more on him later). Then the modern-era Steve Trevor will pick up where his ancestor left off and help Diana defeat Ares once again in the present day. It stands to reason that if this is the case, Pine will continue to play present-day Trevor in the sequels.
The Villain
Wonder Woman's main antagonist role will be filled by her most iconic foe: Ares. The Greek god of war has been a thorn in Diana's side for decades in the comics, and although he's more of a benevolent in the New 52, using him in the movie makes sense. One rumor said he'll be serving more as a behind-the-scenes "puppet master." Another rumor said that Ares will steal a mystical Amazon sword that will let him take over Olympus, but in order to access the blade's power, he needs to start World War III so his "malevolent psychic energy" will unlock it. It's also said that Diana will fight Ares in two different time periods, which would explain the World War I setting. This sword would then be lost in the present day, causing Diana to search for it during Batman v Superman: Dawn of Justice.
Supporting Cast
After months of actors being rumored to appear in Wonder Woman, including Nicole Kidman, Sean Bean and Eva Green, Warner Bros. finally announced the movie's main cast in late November 2015. Joining Gal Gadot and Chris Pine are Robin Wright, Connie Nielsen, Danny Huston, David Thewlis, Ewen Bremner, Saïd Taghmaoui, Elena Anaya, Lisa Loven Kongsli and Lucy Davis. Of these actors, only Huston has previous superhero experience, having played William Stryker in X-Men Origins: Wolverine.
Connie Nielsen - Queen Hippolyta
Queen Hippolyta began life as a cavewoman who was brutally murdered by her mate, and, as such, became the first woman murdered by a man's hatred. Her soul was deposited in the Well of Souls, where she was made flesh again by five Greek goddesses who crowned her queen of the Amazons, as hers was the first soul to emerge whole again. In Wonder Woman, Queen Hippolyta will desire to keep Diana sheltered from the outside world.
Connie Nielsen first came to the notice of international audiences with her role as Lucilla in 2000's Gladiator, where she also had a chance to show off her regal bearing, as she will again as Queen Hippolyta. Since then, she's appeared in dozens of movies and TV shows in the US and her native Denmark, including Law & Order: SVU, Boss, The Following and The Good Wife.
Robin Wright - Antiope
Even though fewer comics and Wonder Woman fans know about Antiope, she was also chosen by the five Greek goddesses to help rule the Amazons, along with her sister Queen Hippolyta. While Hippolyta was the first female soul murdered by a man's hatred to be reborn at the hands of the goddesses, Antiope was the second soul reborn. Together, Antiope and Hippolyta created the great city of Themyscira, populated by the other souls who were reborn at the hands of the goddesses, and women that they freed from slavery. In Wonder Woman, Antiope is actively training Diana to be prepared for the outside world, perhaps knowing that Hippolyta will not be able to keep Diana from exploring the world outside of Themyscira for much longer.
Robin Wright will forever be known to soap opera fans as Santa Barbara's Kelly Capwell, but the role that really made her famous was that of Buttercup in 1987's The Princess Bride. Wright has gone on to have quite a career, with over 50 credits to her name. Her films include State of Grace, Forrest Gump, She's So Lovely, Unbreakable, Moneyball and The Girl with the Dragon Tattoo. She can currently been seen in the Netflix political drama House of Cards, and she will soon be filming an untitled role in the Blade Runner 2049.
Danny Huston - General Erich Ludendorff
As Wonder Woman is a film set during the war to end all wars, it only seems fair that one of the movie's central antagonists would be a military officer. Danny Huston is currently credited as General Erich Ludendorff on IMDB, and while many people have come to the conclusion that he is portraying Ares in disguise, some early footage has suggested that he has no idea who Diana is or how her powers work. Little is known about the specifics of Ludendorff's master plan in Wonder Woman, but it's clear that he wants to use some sort of chemical agent (because WWI) to wipe out the allies and take control of the world. It's unclear if he is Ares in disguise, working for Ares, or is an entirely different threat altogether; we will have to wait and see.
Elena Anaya - Doctor Poison
Danny Huston's character has done most of the talking for the villainous side of Wonder Woman's story in most of the trailers that we have seen so far, but one mysterious character who has consistently popped up is Elena Anaya's Doctor Poison. An iconic character with a long history in DC Comics, Maru a.k.a Doctor Poison is a supervillain/mad scientist who is an expert in the use of poisons and toxins to kill her enemies. Given the prevalence of chemical and biological agents during WWI, it seems highly likely that she will be responsible for the creation of General Erich Ludendorff's secret weapon that will be able to escalate the war -- thus aiding Ares' ultimate mission for eternal conflict.
Lucy Davis - Etta Candy
Although it's pretty clear that Wonder Woman is going for a fairly serious and somber tone (as it rightfully should, given its WWI setting) there still needs to be some solid comic relief throughout the film. That's where Etta Candy comes in. Portrayed by Lucy Davis (Shaun of the Dead, The Office), Etta Candy is Steve Trevor's secretary and Diana Prince's best friend during her journey into the world of man. She's prim and proper, but "not opposed to engaging in a bit of fisticuffs, should the occasion arise." Davis has stolen every single one of her scenes in the Wonder Woman trailers, so our hope remains high that she will have a substantial role in the movie.
Gal Gadot's Contract
At the time of her signing, it was confirmed that Gadot has inked a three-picture deal with Warner Bros. that will begin with Zack Snyder's Batman v Superman: Dawn of Justice. Of course, we also now know that the two other movies will be the solo Wonder Woman film and Justice League.
The interesting hitch in this is that we already know a second Justice League movie is on the table, with Justice League: Part Two being confirmed for 2019. Does this mean that the sequel won't feature Wonder Woman? Or is Warner Bros. not willing to totally bank on Gadot and extend her contract until they find out what audiences think of her portrayal in Batman v Superman? At this point we have way more questions than answers.
Justice League
Warner Bros. and DC Comics established that Batman v Superman: Dawn of Justice would lead into a Justice League movie (hence the title), and Zack Snyder would remain on board to direct the 2017 blockbuster. It makes sense that DC would want to use Snyder's Man of Steel follow-up to expand the universe and lay the foundation for the film, and, as we've seen by this point, the film involved Henry Cavill's Superman, Ben Affleck's Batman and Gal Gadot's Wonder Woman, as well as minor appearances from Ezra Miller as The Flash, Ray Fisher as Cyborg and Jason Momoa as Aquaman. Every trailer that we have seen from Justice League has doubled down on the importance of Wonder Woman on the team roster, and (given the current absence of Superman) she arguably looks like the most powerful member of the titular team.
Wonder Woman's Costume
Zack Snyder has talked about the success he had in delivering a grounded, more realistic version of Superman-- one that was closer in tone to the comic books than Richard Donner's beloved Superman. And that approach might work when Snyder tackles Batman. But how does one make a grounded, realistic Wonder Woman? The character is a goddess, formed from clay (in most iterations) by the Queens of the Amazon. It turns out the answer to this question is to make her a badass warrior woman.
As you've seen earlier in this article, the Wonder Woman costume for Batman v Superman: Dawn of Justice looks like it's basically a next generation Xena costume, complete with plenty of leather straps and a sword that looks like it will have no trouble cutting enemies down. She's also sporting not only her famous gauntlets, but also a cool looking headpiece that brings the character back to her comic book roots.
Wonder Woman's Failed TV Efforts
In the years before this new iteration of Wonder Woman being molded for the big screen, network executives at various companies tried to figure out a way to bring the mighty hero to television sets across the country. And, for assorted reasons, the plans never got off the ground. The most recent example, Amazon, was going to be a Smallville-esque origin story for Diana of Themyscira. Given the success of Arrow, The Flash, and Supergirl it was believed that Wonder Woman could make her debut on TV. Then, in January 2013, the production hit the wall.
Long before that, NBC tried to mount a Wonder Woman series with G.I. Joe and Friday Night Lights hottie Adrianne Palicki in the lead. They even shot a pilot for the show, backed by TV guru David E. Kelley (The Practice). Alas, it was not to be. The pilot is a bit of a "Holy Grail" of television, as NBC has kept it under wraps. But you can see some footage of the failed episode on YouTube.
Joss Whedon's Wonder Woman Movie
Hollywood has been trying to get a Wonder Woman movie off the ground for years. The last attempt was back in 2005, with Avengers director Joss Whedon pitching the idea. This was long before he'd eventually become the Geek Icon behind Marvel's beloved Avengers franchise. At the time, Whedon was best known for the strong female personalities driving television programs like Buffy the Vampire Slayer. And he was signed to write and direct a Wonder Woman movie for producer Joel Silver. "She's someone who doesn't belong in this world, and since everyone I know feels that way about themselves, the character clicked for me," Whedon was quoted as saying.
The project bounced around in various stages of pre-production for years -- with starlets like Jessica Biel, Katie Holmes, Megan Fox, Charisma Carpenter and Eliza Dushku circling the role.
Whedon's Wonder Woman movie even had a teaser poster...
Obviously, it never happened, but Whedon speaks fondly of his screenplay... often. Imagine how different the current comic universe would be if Whedon got DC off the ground first?
Along those lines, Batman scribe David Goyer almost got his own Wonder Woman movie off the ground in 2010, but that, too, stumbled. Drive director Nicholas Winding Refn talked about wanting to do a Wonder Woman movie with Mad Men beauty Christina Hendricks -- to no avail. And Bridesmaids brain Paul Feig pitched a Wonder Woman movie to Warner Bros. once.
Why is Wonder Woman such a tough nut to crack? Let's look at her history and find out.
Wonder Woman's Hollywood History
If Gal Gadot wants to comb Hollywood's archives while researching how to best play Wonder Woman, she'll have options... though not all of them are great. Wonder Woman's most popular iteration has to belong to Lynda Carter, who played the DC Comics hero on TV from 1975-79 in a hit program that aired on both ABC (for its first season) and CBS (for the next two seasons). But did you know that prior to Carter, Wonder Woman was played by Cathy Lee Crosby of That's Incredible! fame in an ill-fated, live-action 1974 TV film?
The character has had a LOT more success in animated form. The longest-running DC Comics program was the animated Super Friends, which ran from 1973-86 and prominently featured Wonder Woman (voiced by Shannon Farnon and Connie Caulfield) as a founding member of the group. She also has appeared on various episodes of DC Comics-based programs like Batman: The Brave and the Bold, Young Justice and in a brief run on South Park in 2007. Beyond that, Cobie Smulders voiced Wonder Woman in The LEGO Movie.
Of course, Wonder Woman's history in DC Comics' books dates back to 1941, when she appeared in All Star Comics and later received her own title. While Hollywood has always tried to figure out a way to transition Wonder Woman to the big screen, Zack Snyder seems to be on the right path -- and the fastest track -- to making Wonder Woman a hit character, and a massive player, in an ever-evolving DC Cinematic Universe.
Your Daily Blend of Entertainment News
Connoisseur of Marvel, DC, Star Wars, John Wick, MonsterVerse and Doctor Who lore. He's aware he looks like Harry Potter and Clark Kent.