The Ghostbusters Honest Trailer Is So Vicious, But Nails Every Problem With The Reboot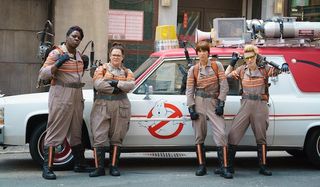 After more than a year of being enveloped in controversy, Ghostbusters was finally released this past May, and is now available on home media months later. Unfortunately for the reboot, it hasn't escaped the biting criticism that plagued it back when it was still being teased through set photos and trailers. That makes it a ripe target for a new Honest Trailer, and while previous entries in this video series are usually packed with nitpicks and flimsy complaints, this one actually points out legitimate problems with the new Ghostbusters.
It's clear right away that this Honest Trailer from Screen Junkies is going to be much different from the rest when the announcer questions whether the YouTube commenters really want them to tackle this movie, and upon agreeing to, opts to turn off the comments section. After addressing Sony's problems before Ghostbusters came out and all the hatred the movie received in comment sections everywhere, the "trailer" acknowledges that the movie definitely has problems. Right away, they point out how the reboot makes every main character the comic relief (not everyone can be a Venkman; someone needs to be a Spengler), how it simultaneously tries to separate itself from the original Ghostbusters movies while also remind us they existed, and force the original stars into weird cameos. As many have pointed out before, maybe this would have been better as either a sequel or a straight reboot (i.e. where there wouldn't have been nearly as many forced references).
It isn't all just about how this new Ghostbusters compared to the original. The Honest Trailer also tears into the movie's general humor, like the soup jokes and dance numbers from the extended cut. All in all, they call it a "fine, but forgettable" comedy, and after a summer where many blockbusters failed to impress critically or commercially, it came out as a simple "studio mandated" franchise film. Acceptable, but not exceptional. That said, let's all agree that Fall Out Boy covering the theme song was just the worst.
Obviously not everyone will agree with the critiques in this video, and the fact is that Ghostbusters did receive a lot of positive reviews earlier this year, averaging a 72% among top critics on Rotten Tomatoes. Ultimately, though, it could have been a much better movie. It just goes to prove yet again that just because a property was beloved way back when doesn't mean that bringing in a new version for a new generation will work out as effectively.
Whether you loved it, hated it or have yet to see it, Ghostbusters is now available on DVD, Blu-ray and Digital HD. However, following its disappointing financial performance, there's no official word yet on whether it will get a sequel, though an animated entry is scheduled for 2019.
Your Daily Blend of Entertainment News
Connoisseur of Marvel, DC, Star Wars, John Wick, MonsterVerse and Doctor Who lore. He's aware he looks like Harry Potter and Clark Kent.