Watch Pixar's Brilliant New Short, Which Absolutely Is Not Meant For Kids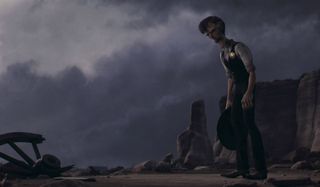 Pixar have far and away established themselves as the kings of the cineamtic short film. One of these is shown before all of their feature releases, and in recent years, the likes of Day & Night, The Blue Umbrella, Sanjay's Super Team and Piper have recently enraptured audiences of all ages. But the latest Pixar short film, Borrowed Time, is firmly one for the adults, because it's a solemn, moody and depressing take on the Western. It's also, as you'd expect, thoroughly sensational, too. Take a look at it below.
Where do you even start to revel in this glory? First of all, there's the structure, which, despite Borrowed Time's brevity, is so perfectly constructed that in just six minutes and forty seconds it packs in more bona-fide emotion, action and visceral beauty than most mainstream productions manage in two hours. The Pixar film goes back and forth between the Sheriff as a young boy alongside his father as they're involved in a wagon chase with a bandit, and the Sheriff as an old, weathered man that's still haunted by the incident.
As it builds and builds, Borrowed Time includes a scene of upmost suspense, as the Sheriff's father dangles over the side of the cliff, and the haunting revelation that he was the one that accidentally killed his own pops when he pulled the trigger on the gun that he was using to pull him back to safety. Obviously it's a mistake that then ravages the Sheriff for the rest of his days. So much so that he contemplates taking his own life in the exact same spot where his own father died.
In classic Pixar fashion, though, Borrowed Time twists and turns on a dime, and the animation provides the story with a smoothness, and takes it to places that shooting in live-action wouldn't have allowed. However, while most of the film is dank and depressing (but in a thoroughly captivating fashion), it wouldn't be Pixar without a ray of sunshine that provides hope.
That comes when the Sheriff finds the old watch that used to belong to his father, and which flew out of his pocket when he accidentally blew him away. Just seeing it convinces the Sheriff to carry on. Then Borrowed Time ends on a shot of just the most beautiful sunset, all while the Oscar winner Gustavo Santaolalla's music manages to elevate the moment beyond perfection.
Directors Andrew Coats and Lou Hamou-Lhadj, as well as producer Amanda Deering-Jones, have also released a making-of featurette for Borrowed Time, which reveals that it was specifically made to defy the idea that animation itself is a genre and that it should be watched just by kids. You can check out this featurette below:
Borrowed Time is also the definitive proof that we need to see more original output from Pixar, the next of which will arrive in November 2017 with Coco.
Your Daily Blend of Entertainment News
Your Daily Blend of Entertainment News
Thank you for signing up to CinemaBlend. You will receive a verification email shortly.
There was a problem. Please refresh the page and try again.