This Rotten Week: Predicting Inferno Reviews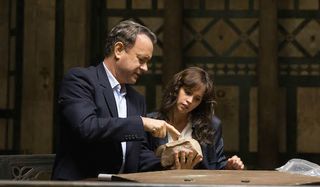 There's only one movie on the docket this week, and it's the return of Tom Hanks in another Robert Landgon/ Dan Brown affair. Forgive me if I don't sound too excited. This week it's just Inferno hitting the box office, and it's gonna be a Rotten Week!
Just remember, I'm not reviewing these movies, but rather predicting where they'll end up on the Tomatometer. Let's take a look at This Rotten Week has to offer.
In what mostly just feels like a contractual obligation rather than a true artistic choice, Tom Hanks is back playing Robert Langdon in Ron Howard's Inferno. I don't want to shock you here, but the premise in this flick has Langdon tracking down the roots of a deep historical secret that could shake the fabric of the world if it got out. If that sounds familiar don't worry because it's basically the premise of every Dan Brown book (and subsequent movie). This is the third flick in the Robert Langdon franchise, preceded by The Da Vinci Code (25%) and Angels & Demons (37%), both directed by Ron Howard... and we don't expect to do much better with critics than those titles.
Early reviews have Inferno in line with the other films in this franchise.The number of early reviews that have already been submitted have this one locked in as another stinker, with critics calling it "silly", "clumsy", and "soulless"... and it really doesn't stop there. It's sitting at 23% now, and it's hard to imagine it going up much as we get closer to the release date.
Last week was totally brutal for the Rotten Watch and represents one of my worst showings ever. For starters, Jack Reacher: Never Go Back (Predicted: 61% Actual: 40%) came in well under my prediction, as critics didn't love the second installment of this franchise. Most saw it as just a forgettable retread of the first, almost totally devoid of a coherent story and nothing to get excited about. It likely doesn't mean anything for Cruise as an uber-action star, but this one is something we probably won't revisit.
Meanwhile, Keeping up with the Joneses (Predicted: 41% Actual: 17%) was pretty much a train wreck. I'd like to think I had the tenor of the reviews correct, but was still wildly off in the prediction. I had it a little higher on the backs of the stars in the film thinking they'd carry what appeared to be a weak flick without many laughs for a comedy. It turned out close to a bottom feeder and will be something the key players keep off their resume and move on.
The easiest one to predict was Boo! A Madea Halloween (Predicted: 25% Actual: 31%), mostly because all of Tyler Perry's movies tend to end up in this range. I can't even really call this one a win because the dude has such a sample size of critical stinkers that just averaging them and calling that the prediction is mostly a layup. But they keep turning folks out to the box office, so I'll have another chance to pad my own stats in short order.
And finally, Ouija: Origin of Evil (Predicted: 6% Actual: 81%) represents one of my biggest misses of all time. In fact, it might be my worst one ever. It's awfully tough to miss by 75 percentage points, and yet here we are. Critics really took to Lulu Wilson's performance as the kid in the midst of this horror film from director Mike Flanagan. Considering how low the original was on the Tomatometer I can't really kill myself over this one, but man what a miss.
Next time around we've got Doctor Strange, Trolls and Hacksaw Ridge. It's gonna be a Rotten Week!
Your Daily Blend of Entertainment News
Doug began writing for CinemaBlend back when Terminator: The Sarah Connor Chronicles actually existed. Since then he's been writing This Rotten Week, predicting RottenTomatoes scores for movies you don't even remember for the better part of a decade. He can be found re-watching The Office for the infinity time.