How Big Alfred's Role Will Be In Justice League, According To Jeremy Irons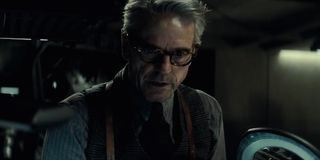 Jeremy Irons didn't really get a chance to flex his muscles as Alfred Pennyworth in Batman v Superman: Dawn Of Justice. While he was far from the worst thing about the superhero hybrid, he failed to make an impact as Bruce Wayne's trusty butler. And from what he had to say about the size of his role in the Justice League it doesn't sound like he'll be getting much more screen time to strut his stuff.
Jeremy Irons made this admission to Variety while chatting about his role in the drama The Man Who Knew Infinity. Obviously the discussion soon turned to his role as Alfred in the DC Extended Universe, and Jeremy Irons was asked if he'll have more to do this around. To which he responded:
As he rightfully points out, it's not that surprising that Jeremy Irons will have a similar amount of time on-screen in Justice League as he did in Batman v Superman: Dawn Of Justice, because there's quite a bit more competition for spaces. Earlier this summer he only had to contend with Superman (Henry Cavill) and his posse, which included Lois Lane (Amy Adams) and Perry White (Laurence Fishburne), as well as Wonder Woman (Gal Gadot) popping in and out.
In Justice League we are fully introduced to Ezra Miller's The Flash, Jason Momoa's Aquaman, and Ray Fisher's Cyborg, whose combined presence in the DC Extended Universe has so far come to less than a minute, while Superman will return from the dead, and Wonder Woman will undoubtedly be kicking ass, too. Luckily for Jeremy Irons, though, Ben Affleck's Batman appears to be in control of bringing the Justice League together, and Alfred will clearly be assisting him with addresses, telephone numbers, What's App groups, and MySpace profiles in his quest. You can remind yourself of the rather impressive first teaser for the Justice League by watching it again below.
Jeremy Irons is in the DC Extended Universe for the long haul, though. And while his appearance in Justice League is expected to be just as fleeting as it was in Batman v Superman: Dawn Of Justice, we can expect to see him given a meatier role in Ben Affleck's solo Batman film. The big question is, though, whether he'll be able to rival Michael Caine's virtuoso portrayal as Alfred Pennyworth in Christopher Nolan's Dark Knight saga, which we can all admit was fully deserving of at least a Best Supporting Actor Oscar nomination.
We have quite a few years to wait and see about that, though, because Ben Affleck is remaining tight-lipped about when we can expect a solo Batman film. At least we know that Justice League will be released on November 17, 2017.
Your Daily Blend of Entertainment News
Thank you for signing up to CinemaBlend. You will receive a verification email shortly.
There was a problem. Please refresh the page and try again.