The Best On-Screen Bruce Wayne, According To Kevin Conroy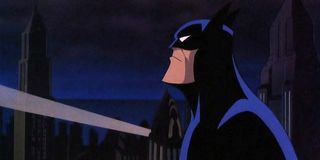 While not as popular as "Who is the best Batman?" the debate over who is the best Bruce Wayne is one that will rage on for eternity. There are those that believe Adam West is the definitive incarnation, while others have a soft spot for Michael Keaton, in recent years Christian Bale has become a firm front-runner. Kevin Conroy knows a thing or two about portraying Bruce Wayne, having provided the voice for the animated version of the character since the early 1990s. And he's decided that his favorite incarnation of the billionaire playboy is Christian Bale. Case closed.
Kevin Conroy made this admission while at Stan Lee's LA Comic Con, via Screen Geek, but he also insisted that while he adored Christian Bale's performance as Bruce Wayne in Batman Begins, The Dark Knight, and The Dark Knight Rises, he did have a slight issue with how he portrayed Batman. Mainly because of his voice. Conroy explained:
Like Conroy, plenty of people have mocked and commented upon Christian Bale's voice in Christopher Nolan's Dark Knight series, with some insisting that it's so deep and noticeable that it actually takes away from his performance as the superhero. But that's just one minor quibble from what, overall, is a truly astounding and impressive performance as the Caped Crusader.
Kevin Conroy also commented upon the current incarnation of Batman, defending Ben Affleck and insisting that his performance in Batman v Superman: Dawn Of Justice was actually impressive. Kevin Conroy, who has previously criticized Batman v Superman: Dawn of Justice as he believes that it should never have shown Batman killing so many people, even went as far as to call Ben Affleck's performance "wonderful" before adding, "He does really well on both Batman and Bruce Wayne."
Luckily for Kevin Conroy Batman v Superman: Dawn Of Justice was just the beginning of Ben Affleck's tenure as both Bruce Wayne and Batman. Not only did he already reappear as the iconic character in Suicide Squad, but he will obviously play a huge role in Justice League and he's currently working very hard on his very own solo Batman film, too, which he will also write and direct. All of which made just give him the edge in future discussions regarding the best incarnation of the character.
Your Daily Blend of Entertainment News