Michael Fassbender Now Says He's Playing Two Characters In Alien: Covenant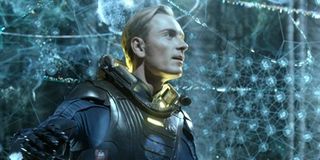 While Prometheus was admittedly a disappointment, because of the presence of Michael Fassbender and Sir Ridley Scott, it's hard not to be excited about its upcoming sequel. Especially since Alien: Covenant is starting a fresh with what, for the most part, is a brand new cast, because aside from Fassbender, only Noomi Rapace is returning, and even she is only believed to be in it briefly. Fassbender has now provided an exciting update to Alien: Covenant, revealing that rather than just portraying the android David, he is also playing another android by the name of Walter.
The Academy Award nominated actor made this revelation to The Irish Times, via @rorysbooks, as he also spoke glowingly of working with Sir Ridley Scott again, and teased that Alien: Covenant will be a perfect mash of the 1979 original and Prometheus. Fassbender explained:
That description might just be my favorite I've ever heard of Sir Ridley Scott, whose cinematic career could best be described as both "imaginative and mischievous."
Alien: Covenant revolves around the crew of the colony ship Covenant that lands on a remote planet whose only inhabitant is the android David, played by Michael Fassbender, who we were introduced to in Prometheus. Walter is believed to be an android that is assisting the crew on board the Covenant. As well as two versions of Fassbender, the film's cast also consists of Katherine Waterston, Danny McBride, Demian Bichir, Jussie Smollett, Amy Seimetz, Carmen Ejogo, Callie Hernandez, Alexander England, and Billy Crudup.
Of course the big revelation from Michael Fassbender that he is indeed playing two androids just adds further questions regarding the film, especially when it's coupled with his insistence that it's similar to the petrifying Alien. Do Walter and David work together to bring down the crew of the colony ship Covenant that lands on the mysterious planet? Is Walter a more intelligent version of David? Are they telepathic? The last one is a joke, but I hope so.
We've now got just under a year until we find out, because Alien: Covenant will be released on August 4, 2017, while 20th Century Fox will be hoping that having ditched Prometheus from its title it'll be able to entice in more viewers and will prove to be a bigger success with critics, too, who praised the visuals and performances but were rightfully critical of its predecessor's plot, because it was pretty dumb.
Your Daily Blend of Entertainment News
Your Daily Blend of Entertainment News
Thank you for signing up to CinemaBlend. You will receive a verification email shortly.
There was a problem. Please refresh the page and try again.