What Alien: Covenant Actually Will Be About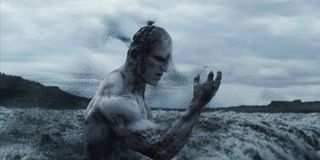 There's been quite a lot of chopping and changing over the upcoming Prometheus sequel ever since Ridley Scott confirmed it would be his next film. At first it was going to be entitled Alien: Paradise Lost, now it's been confirmed that it will actually be entitled Alien: Covenant. And, just to make it official, 20th Century Fox has now released an official synopsis for the much anticipated sci-fi behemoth.
You can check out the studio's nifty little blurb, via IndieWire, for the film below. And while it does a fine job of creating some buzz ahead of the film's production – which is due to begin in February – it's also rather intriguing too. Not because of what it says, but because of who it leaves out.
Obviously any mention of the always magnificent Michael Fassbender is appreciated, but what about Noomi Rapace's Elizabeth Shaw? Does her complete omission from this synopsis mean that she's not going to feature in the film at all? It would certainly seem that way.
For those of you that don't remember, at the end of Prometheus Elizabeth Shaw and the remains of David the android were the only survivors of the original Prometheus ship. While still completely horrified with what they'd just gone through, the pair were also buoyed by the Engineers and they decided to try and visit their home world in an attempt to learn why they wanted to kill humanity.
From the sounds of things, in between the end of Prometheus and the start of Alien: Covenant, Noomi Rapace's Elizabeth Shaw succumbs to some sort of death. Leaving Michael Fassbender's David to be one very lonely android.
If Noomi Rapace doesn't appear in Alien: Covenant then that would fit in with the recent speculation over a new female lead for the franchise. There have been rumors that Rebecca Ferguson, who recently turned into a hot Hollywood commodity after her turn in Mission: Impossible – Rogue Nation, would be part of the "new group of travellers" that Ridley Scott confirmed to Awards Campaign last month would be introduced "in the beginning of the first act."
We'll now just have to wait and see if Noomi Rapace's Elizabeth Shaw will be there to meet them. But it's not looking overly promising for her at the moment. Alien: Covenant is due out on October 6, 2017.
Your Daily Blend of Entertainment News
Your Daily Blend of Entertainment News
Thank you for signing up to CinemaBlend. You will receive a verification email shortly.
There was a problem. Please refresh the page and try again.