What The Flash Movie Needs From Its Next Director, According To Ezra Miller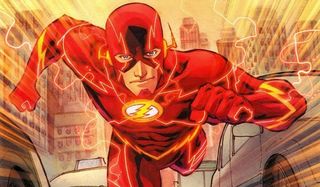 DC's planned The Flash movie, due in theaters in 2018 with Ezra Miller playing Barry Allen, recently hit a snag. After months of pre-production, director Rick Famuyiwa (Dope) left the project, citing creative differences (ah, the old "creative differences"). A replacement has yet to be named, even though the movie still has its March 16, 2018 release date -- for the moment. So when our own Gregory Wakeman had the opportunity to sit down one-on-one with Ezra Miller in New York City today on behalf of Fantastic Beasts and Where to Find Them, he asked the actor what he thinks The Flash needs in a replacement director, Miller told him:
Which is encouraging to hear, because almost everything that we've come to know about the DC Extended Universe up to this point has been about darkness and despair -- hell, they "killed off" Superman (Henry Cavill), for God's sake -- yet so many DC fans have been looking to the introduction of Barry Allen (Ezra Miller) as the blast of hope and enthusiasm that the DCEU needs. So to hear Ezra Miller say that a replacement director needs to bring an open heart, and a heartfelt attitude about the movie makes us think that the positive spin The Flash can bring to the DCEU may still stay intact, even with Rick Famuyiwa leaving the project suddenly.
We haven't seen a ton of Ezra Miller's The Flash on screen in the DCEU. He filmed a brief cameo in Batman v Superman: Dawn of Justice, where he appeared from a distant future to warn Bruce Wayne (Ben Affleck) about... someone? Then, Miller appeared in a Suicide Squad scene where he apprehended Captain Boomerang (Jai Courtney), setting him up to play a major role in Zack Snyder's Justice League.
And, of course, we got a long look at Batman's recruitment of The Flash into the Justice League in the Comic-Con reel that the director brought to San Diego.
Ironically, Rick Famuyiwa also joined his fellow DC directors on a Comic-Con panel, and months later, he's gone. So yeah, the DCEU is constantly changing shape. I don't know how much input Ezra Miller has into the hiring of the new director for The Flash. Seeing as how they need Miller to be on board for this to work, I'm guessing he has SOME say. And now we know what he'd like to see in a filmmaker tackling The Flash. Your move, Warner Bros.