Upcoming Disney Animated Movies: List Of Titles And Release Dates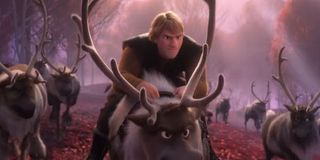 While Disney's live action films from Marvel and Lucasfilm might be the biggest players at the box office for the company, as Walt Disney said, it was all started by a mouse. Animation is still a big part of what Disney does, and Walt Disney Animation Studios continues to release massive hits one after another.It's like Marvel Studios, just a bit smaller. Whether it's Moana or the sequel to Wreck-It Ralph, animated Disney films are still incredibly popular. When put them together with the billion dollar success of films like Zootopia, the last few years have been incredible for Disney.
We can only imagine what the studio is going to do next. Well, in many cases we have to imagine what is going to come next because we don't really know and details are still mostly under wraps... Although, in other cases, we know exactly what is being planned.
Walt Disney Animation Studio, not to be confused with Pixar, has several films announced to be coming over the next few years. Most of them are still fairly secret, but we have a few hints about what might be coming, and then of course, there are the big movie that we know for sure are on the way. Here's all the details we have about what we know is coming, and what seems quite likely, in the future of Disney animation.
Frozen II
One confirmed title from Walt Disney Animation Studios that we're waiting to see is a sequel to Disney's biggest animated hit, Frozen. In February of 2019 we finally got our first look at the project. The trailer is visually stunning, though it doesn't reveal a great deal about the plot of the movie itself. We see all of our heroes from the first film going on some sort of journey together. It also reveals a pair of brand new characters, though who they are, we still don't know.
Release Date: November 24, 2019
Spies in Disguise
One of the Blue Sky/Fox acquisitions that will be released under the Disney banner, Spies in Disguise is a project that brings together two stars who have already made a wad of cash in the name of the Mouse this summer. Will Smith and Tom Holland star as a spy and a scientist who have to work together after the latter turns the former into a bird by accident. This may be from a rival company, but Spies in Disguise has Disney written all over it.
Release Date: December 25, 2019
Onward
Pixar's first release in 2020, Onward marks the beginning of the company's pledge to engage in more original ideas. This first entry out of two for this year tells the story of Ian and Barley Lightfoot, voiced by Tom Holland and Chris Pratt, respectively. They play a pair of trolls who wish only to spend time with the father they never met and are in search of any magic to make it happen. Onward's cast also includes Julia Louis-Dreyfus and Octavia Spencer.
Release Date: March 6, 2020
Soul
The second of Pixar's 2020 release slate, Soul sounds like a spiritual successor to one of the studio's previous films, Inside Out. Starring Jamie Foxx as Joe, a middle school music teacher who dreams of being a jazz pianist, Soul sees the man separated from his own inner being. On a journey to reunite himself with his soul, we'll learn more about just what makes these inner beings special.
Release Date: June 19, 2020
Bob's Burgers
After years of representing the competition, Bob's Burgers eventually joined the Disney family after the merger with Fox. Besides making Gene's dreams of becoming a Disney princess all the more tangible, the in-production movie based on the series will be released under their auspices. Very exciting times are ahead for the Belcher family, and their legions of fans.
Release Date: July 17, 2020
Ron's Gone Wrong
Not much is known about Ron's Gone Wrong at this time, except that it is a holdover from a partnership between Fox and U.K. animation studio Locksmith. A tale of a young boy and his malfunctioning robot pal, this film takes place in a universe where that sort of thing shouldn't happen. It honestly wouldn't be a surprise to see this film rescheduled or altogether cancelled, as Disney's culled the Fox lineup quite extensively in recent months, and that release date would seem to play havoc with Disney's own film for that year.
Release Date: November 6, 2020
Raya and The Last Dragon
Raya is a human warrior searching for the last dragon, and Sisu just happens to be a water dragon that holds that distinction. Together, they'll become friends in Raya and The Last Dragon, which is set to be Disney's 59th animated masterpiece in theaters. Starring Cassie Steele as Raya, and Awkwafina as Sisu, this will be the next in the line of Disney's traditional Thanksgiving offerings.
Release Date: November 25, 2020
Nimona
Based on the web-comic of the same name, Nimona is set to make audiences fall in love with the titular shapeshifter it takes its name from. Author Noelle Stevenson's fantasy/sci-fi world has a cult internet following, and the good fortune of being kept on the slate after the Fox/Disney merger purge that saw many other projects of a similar stripe junked from the schedule.
Release Date: March 5, 2021
Unknown Lin-Manuel Miranda/Byron Howard Project
Lin-Manuel Miranda, the hardest working man in showbiz, has said that following his work on Moana, Disney Animation chief John Lassiter introduced him to Zootopia co-director Byron Howard so that the two could begin to collaborate on another animated film. As of this writing, Miranda says the two have yet to actually talk, so it's not even clear if there's even an idea they'll be working on or if they'll be starting from scratch. It's also possible that whatever the two work on will never actually see the light of day, but with talent like these two, we're betting that we'll see it eventually.
Release Date: Unknown
Zootopia Sequels
No sequels to Zootopia have ever been officially announced by Disney, but recently, Tom "Tiny" Lister, who had a small role in the original film, claimed that not one, but two sequels were being planned by the studio. It certainly wouldn't be shocking to learn this was true. Considering the the sequel to Wreck-It Ralph was rumored by the cast long before it was officially announced by Disney, it's certainly possible that's happened here as well. The original film made over $1 billion at the global box office and also won the Academy Award for Best Animated Feature. That's a combination that practically demands a sequel.
Future Disney Animation Release Dates
November 24, 2021
November 23, 2022
Disney and the Thanksgiving weekend have been inseparable for a long time and with Disney's most recent update to its release schedule, it claimed that weekend for the next several years. While Frozen II decided to open a bit earlier, and now comes out the Friday before Thanksgiving, Disney now has the Wednesday before the holiday claimed for 2020 through 2022. No titles have been officially revealed, but the previously mentioned projects that are in some form of development could certainly be on that list.
Future Pixar Animation Release Dates
June 18, 2021
March 18, 2022
June 17, 2022
Much like its corporate parent, Pixar has some secretive spots staked out on the collective animation schedule. From the looks of it, those films will be dropped in March and June release dates, as seen with Onward and Soul's releasing strategies, and in the dates listed above. So as it stands, Disney will keep that coveted Thanksgiving slot for their own animated projects, while Pixar gets the earlier year warm up slots.
Previously Released
Ralph Breaks The Internet
After years of rumor an official announcement via Facebook that Ralph Breaks The Internet: Wreck-It Ralph 2 was on the way finally came. While that news wasn't exactly news, because John C. Reilly had already blabbed, what was news, and surprising news at that, was that Wreck-It Ralph 2 was actually going to be the next feature we saw from Disney following Moana. It took over a release date that was already set aside for another movie, putting it in what we'll call the Zootopia space in 2018. However, it was eventually pushed back into November
Release Date: November 21, 2018
Cancelled Projects
Untitled Planes Sequel
Not every Disney project that gets announced actually makes it to the screen. Every once in a while the DisneyToon studio, which was promarily focused on television and direct-toDVD animation, was given a shot at a theatrical release. Such was the case with two previous Planes movies, which did pretty well all things considered. A third film in the series was announced and scheduled to be released in June of 2019, but in June of 2018 it was announced that DisneyToon studio was being completely closed down, and with it, the film was cancelled.
Gigantic
Originally planned to hit theaters in the Spring of 2018, Gigantic was going to be Disney's take on Jack and the Beanstalk. It kept getting pushed further down the release schedule, falling into the Thanksgiving weekend of 2020 slot eventually. However, in October of 2017, Disney announced that the project simply wasn't working, and had been cancelled. At that point Disney confirmed that another project that had been in the works would be taking that slot, but we still don't know what movie that is.
The future of Disney Animation may be largely secret, but you can be sure that with the success the studio has had in recent years, Disney has every intention of keeping that train moving. With the success of Ralph Breaks the Internet, and the presumed success of Frozen II, it seems likely that more theatrically released sequels to Walt Disney Animation Studios films are quite possible.
When it comes to original concepts, the sky is the limit in animation, so it's basically impossible to guess what could be coming next.
CinemaBlend's resident theme park junkie and amateur Disney historian. Armchair Imagineer. Epcot Stan. Future Club 33 Member.