A Back To The Future Reboot? Here's What The Producer Thinks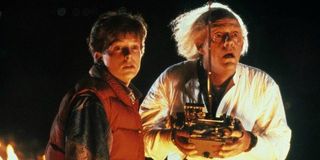 Frank Marshall has insisted that as long as he's there to bat away the requests, there will never, ever be a reboot of Back To The Future. Marshall worked on all three Back To The Future films as an executive producer, and he has insisted that he won't let any filmmaker near the 1985 classic so that they can bring it to a brand new audience.
The producer made this emphatic declaration while talking to Yahoo Movies UK, insisting that Back To The Future, like ET: The Extra-Terrestrial, just doesn't need to be touched. At the same time he also gave the film a little pat on the back for being so close with its prediction about the Chicago Cubs' World Series triumph. When asked about a potential Back To The Future reboot, Frank Marshall remarked:
This isn't the first time that the mere suggestion of a Back To The Future reboot has been dismissed by someone close to the project. Sources for Robert Zemeckis told Deadline back in October 2015, "The film can't happen without his approval, and he doesn't want to do a remake or a redo." While back in June of the same year, Robert Zemeckis told the Telegraph himself when quizzed about a potential reboot:
Even Bob Gale, who wrote each installment of the Back To The Future franchise, told Yahoo Movies back in 2014 that there was no way Back To The Future 4 would happen, before then adding:
Meanwhile, for those of you that aren't aware of Back To The Future's clairvoyance regarding the Chicago Cubs, all the way back in 1989, Bob Gale wrote a joke into Back To The Future Part II that saw Marty McFly being greeted to the year 2015 with a news headline that joked the Chicago Cubs had swept the World Series over a Miami baseball team. You can check out the scene in question below:
Rather spookily, Back To The Future Part II was just one year out, as the Chicago Cubs finally ended their World Series hoodoo in 2016. It isn't quite The Simpsons predicting President Donald Trump, but it is nevertheless impressive.
Your Daily Blend of Entertainment News