Here's How Back to the Future Plans To Celebrate Its 30th Anniversary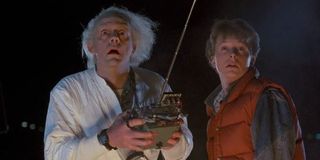 It's a fact that we're uncomfortable admitting, but next summer will mark the 30th anniversary of Back to the Future. (Oh how time flies!) As beloved and iconic as this '80s classic is, you can bet that its makers have an eye out for ways to toast the film's long-running popularity. And screenwriter Bob Gale is dropping some details.
Speaking with Yahoo, Bob Gale, who co-wrote Back to the Future with its director Robert Zemeckis, wasn't shy about sharing how the film will be toasted in 2015. He offered:
Regrettably, "some other things" will not include the rumored Back to the Future musical. Earlier this year, Bob Gale had released an official statement about The Back The Future Musical, which was slated to hit the stages of London's West End in 2015. But Gale is now backpedaling.
"It's still in development," Bob Gale told Yahoo, "We're not going to have that out next year. It's going to take longer to get right. If and when it finally comes out—and we expect that it will — Bob (Zemeckis) and I will be all over it." Gale told the site that he is busy working on the musical's book, Alan Silvestri is working on the music, and Glen Ballard (The Polar Express) is doing the lyrics for the show. For fans who might be worried, Gale assured, "We're not going to have a shitty version of a Back to the Future musical. If it's going to be out there, it's going to be great and if it's not great, we're not going to have it go out.
But one big event Back to the Future fans will have to look forward to is an immersive 30th Anniversary screening of the film in Los Angeles. Hosted by Secret Cinema, the event could well boast the kind of setup the company pulled off for a London screening of the 1985 hit, where they exhibited Back to the Future within a reconstruction of its fictional town that included 20 operational shops and 74 extras.
Get a taste of that event below:
We'll give you more on Back to the Future's 30th Anniversary blow-out as news develops.
Your Daily Blend of Entertainment News
Staff writer at CinemaBlend.