Back To The Future 4? Christopher Lloyd Says This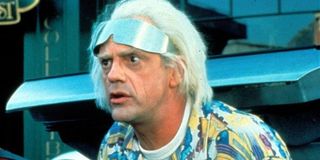 Back To The Future's 30th birthday was earlier this year, which means that celebrations for the time-traveling sci-fi classic have been taking place for quite some time now. Of course, because Michael J. Fox, Robert Zemeckis and Christopher Lloyd have been conducting endless interviews to commemorate this occasion, they've inevitably been asked about the possibility of a sequel. And Christopher Lloyd is adamant that he would jump at the opportunity.
Christopher Lloyd was asked by The Hollywood Reporter about his thoughts on appearing in a possible Back To The Future 4, and while he admitted that he'd love to reprise his role as Dr. Emmett Brown, he's also fully aware of how hard it would be to replicate the success of the original. Lloyd proclaimed:
It's cute that Christopher Lloyd holds Back To The Future III in such esteem, however we all know that the third installment to the beloved franchise tails off badly in comparison to the originals. Even Back To The Future II has its flaws, but it still manages to replicate the fun and ferocious vibe of the original.
Of course, Back To The Future is a masterpiece of family entertainment, which is funny, thrilling, and just a rollicking good time. In fact, because of its stellar reputation amongst its die-hard fans there has been somewhat of an outcry over even the mere mention of a Back To The Future 4, which is completely understandable.
However, since we are currently in the age of the sequel and reboot, when Hollywood doesn't even think twice about making an old film new again, there's been plenty of speculation over whether we might actually get Back To The Future 4. Robert Zemeckis is adamant that won't happen, but Hollywood and all of its riches can be very, very persuasive. Especially since the hugely enjoyable The Walk just tanked at the box office.
These rumors have het up over the last few days as we head toward October 21st, 2015, a date that is dubbed as Back To The Future Day. This is because this is the day, month and year that Marty McFly, Doc Brown, and Jennifer Parker travelled to the year 2015 and were immediately confronted by hover-boards, flying cars and Jaws 19.
Unfortunately, none of these things have actually manifested yet. But we've still got six days to go until October 21, so maybe, just maybe, they're all about to be presented to us and released in one fell swoop.
Your Daily Blend of Entertainment News