Tom Cruise's The Mummy Trailer Teases Gods, Monsters And Scares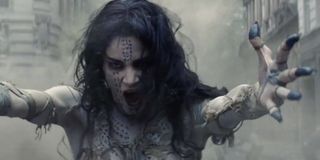 Cinematic universes -- they're not just for comic book characters anymore. In fact, we're about to see the resurgence of some insanely iconic silver screen monsters in an exciting and cohesive cinematic universe. The Universal Monsters Universe is about to take shape in a major way, and Tom Cruise's upcoming action/horror hybrid, The Mummy looks like it's going to get this universe off on the right foot. A new trailer for the thriller has just hit the web, and it looks utterly terrifying. Check it out below!
That teaser is somewhat lean on specific plot details (as is typical of most teasers) but it definitely has us excited for what The Mummy has in store. Overall it seems to set up a fairly simple yet effective premise; in the modern era, a group of paramilitary archaeologists go somewhere that they really shouldn't, and in the process they unleash an ancient evil called Ahmanet (Sofia Boutella) on the Earth. In the face of this threat (as well as his own disbelief), Nick Morton (Tom Cruise) must race against time to defeat this mummy and send her back to her tomb.
It's worth noting that this incarnation of The Mummy does a phenomenal job of setting itself apart from previous versions of the well-worn narrative. There's definitely the DNA of past Mummy films present in this teaser -- such as the promised blend of horror and action -- but overall this seems like an incredibly modern and mature take on the Universal classic. Smart money is on Tom Cruise doing quite a bit of running during this film. After all, that's sort of his thing.
Obviously it's still quite early, and we haven't seen much of the film yet, but The Mummy clearly has the potential to get the Universal Monsters Universe properly started off on the right foot. Sorry, Dracula Untold, you've been retconned out of existence.
However, as intense and exciting as the central narrative of The Mummy looks, the really exciting aspect is the presence of Russell Crowe as Dr. Jekyll/Mr. Hyde. We don't know how this classic character factors into the narrative of the film, but the fact that he's there -- and that his presence clearly isn't being kept a secret -- means that Universal isn't wasting any time getting this universe up and running.
We will bring you more information concerning the upcoming release of The Mummy as new details become available to us. The film will hit theaters on June 9, 2017.
A brand new poster for The Mummy has also hit the web to coincide with the debut of this awesome teaser trailer. Check it out on the next page!
Your Daily Blend of Entertainment News
Originally from Connecticut, Conner grew up in San Diego and graduated from Chapman University in 2014. He now lives in Los Angeles working in and around the entertainment industry and can mostly be found binging horror movies and chugging coffee.