Could Star Wars Spinoffs Open Star Wars To New Genres?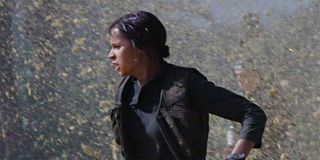 Certain Hollywood insiders and filmmakers have spent the last decade predicting the end of superhero blockbusters, but there's a very good reason why they have managed to stay successful. While all do fit under a general "comic book movie" brand, the source material that has been getting adapted for the big screen has also allowed for incredible swings in genre -- allowing writers and directors to make new and fun features that are completely different than those being made by their colleagues (even when they are part of the same larger franchise).
It's because of this that these comic book movies will likely remain popular for years to come... and it's something that the minds behind Star Wars need to pay attention to as plans to release features annually are made beyond the 2019-scheduled Star Wars: Episode IX. Variety is the key to longevity, and the good news is that they have already established an avenue through which they can explore it: the spin-off projects that are kicking off with Gareth Edwards' Rogue One: A Star Wars Story.
Most Star Wars movies are modestly easy to define as "Space Opera" but Gareth Edwards had a different vision for Rogue One: A Star Wars Story as he pitched it to Lucasfilm. The blockbuster obviously has plenty of the hallmark space battles and aliens, but it's also clearly emphasizing "Wars" over the "Star" part of the brand name, and just from an aesthetic perspective is completely different than what George Lucas, Irvin Kershner, Richard Marquand, or J.J. Abrams delivered before. A huge part of what makes Rogue One exciting is the fact that it's legitimately unique within the franchise and therefore comes with a new set of expectations. If it's not already doing so, it should inspire the future Star Wars Stories to take the exact same path.
Whether or not that is actively happening is currently up in the air -- mostly because there is only one other Star Wars spin-off movie that we know for sure is happening: Phil Lord and Chris Miller's untitled Han Solo film. That being said, the wonderful eclecticism in this filmography of that project's two directors gives us a lot of hope. Lord and Miller certainly have the capacity and talent to deliver an enjoyable Star Wars film similar to material we've already seen, but the fact that they're the brains behind both the animated Cloudy With A Chance Of Meatballs and the R-rated 21 Jump Street, we're confident that they're vision for a Han Solo adventure is as fresh as Gareth Edwards' was in the making of Rogue One.
One person that seems to be confident in this development for the future of the Star Wars franchise is actually Gareth Edwards himself. This past weekend, I had the pleasure of sitting down with the director during the Rogue One press day in San Francisco, and I took the opportunity to ask him about how the Star Wars Stories could be used to explore new genres. He noted that a lot of it will ultimately depend on the filmmakers Lucasfilm brings in to make the movies -- but that they will be given the opportunity by the studio to express their own personal visions. Said Edwards,
You can watch Gareth Edwards talk about genre and the future of the Star Wars franchise below -- and hear his story about the awesome visual aids that he used to pitch Rogue One to Lucasfilm:
Being the first director to go through the experience of making a Star Wars Story, Gareth Edwards' confidence in the franchise's genre flexibility is definitely encouraging. There are surely a lot of great filmmakers out there who have their own idea of what a Star Wars movie can be, and hopefully the future will be full of diverse big screen experiments.
Unfortunately, I didn't get as clear an answer when I posed the same question about the future of the Star Wars Stories to Lucasfilm President Kathleen Kennedy. The executive/producer took part in the Rogue One press conference this past Sunday, and given the microphone I asked her about genre exploration in the name of keeping the franchise fresh. Instead of speaking directly to upcoming spin-off projects, she instead spoke to the fact that George Lucas was inspired by multiple kinds of films when initially creating the sci-fi world back in the mid-1970s. Said Kennedy,
By that token, variety exists within the Star Wars tradition -- and as long as that's something the franchise is constantly looking for, there's no reason to expect anything other than endurance and long-term popularity. When J.J. Abrams' Star Wars: The Force Awakens debuted in theaters on December 18, 2015, it ushered in an entirely new era for the franchise; but when Gareth Edwards' _Rogue One _arrives on December 16th, hopefully it too will have an effect on the same level and inspire a whole new way of thinking about what a Star Wars movie is.
Your Daily Blend of Entertainment News
Assistant Managing Editor
NJ native who calls LA home and lives in a Dreamatorium. A decade-plus CinemaBlend veteran who is endlessly enthusiastic about the career he's dreamt of since seventh grade.