The 10 Best Romantic Comedies Of All Time, As Chosen By Online Daters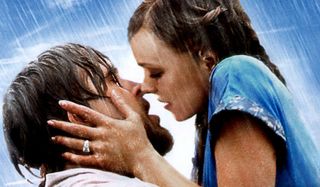 Watching a movie with the person you love has become a modern ritual in the dating world. You simply curl up, get comfortable, and bond over a wonderful story. There are innumerable genres to choose from these types of situations, but one of the most popular date night film categories has unquestionably become the romantic comedy genre.
With that in mind, the romantic comedy genre has definitely become insanely crowded over the years. To help figure to discern the cream of the crop, the folks at EliteSingles have conducted a survey to find out what romantic comedies their users actually like. Some of these films are more romantic, while others are more comedic, but all of them hold the honor of being bona fide rom-coms. Without further ado, let's get the ball rolling with a 2009 collaboration between Katherine Heigl and Gerard Butler.
10. The Ugly Truth
The ugly truth of modern love is the fact that men and women are fundamentally different beings who want different things out of their relationships. That's the overarching premise of 2009's The Ugly Truth, and the film uses Abby Richter (Katherine Heigl) and Mike Chadway (Gerard Butler) as avatars to explore the deeper philosophy of gender differences. The poster of the movie says it all: women think with their brains, and men think with something much, much lower.
9. Bridget Jones (The Trilogy)
Out of all the entries on this list, the Bridget Jones trilogy holds the distinction of being the only film franchise to receive a spot. Beginning with 2001's Bridget Jones' Diary, and continuing through to this year's Bridget Jones' Baby, the series follows the titular heroine as she endeavors to take control of her life and her relationships. As a full series (rather than a single film) the Bridget Jones franchise has done a phenomenal job of chronicling a decade in the life of Ms. Jones, and rom-com fans have loved every step of the journey.
8. The Proposal
Romantic comedies aren't typically known for their high stakes, which is why The Proposal represented such a different approach to the formula when it debuted back in 2009. Faced with the possibility of deportation, Margaret Tate (Sandra Bullock) lies about being engaged to her assistant Andrew Paxton (Ryan Reynolds), thus beginning an elaborate ruse to convince the authorities (and their families) that they are an actual couple. Despite its somewhat dramatic premise, The Proposal never once skimps on laughs, thus ensuring its status as a modern classic.
7. The Notebook
When it comes to Nicholas Sparks film adaptations, there is one that stands out above the rest: 2004's The Notebook. A period piece chronicling the love affair between a poor mill worker (Ryan Gosling) and a rich young woman (Rachel McAdams), The Notebook is a total tearjerker that features one of the best twist endings in the history of romantic films. If you're going to watch only one Nicholas Sparks movie with your significant other, make it The Notebook.
6. The Holiday
For some fans of the romantic comedy genre, a single love story simply isn't enough. Enter, The Holiday, which tells the dual story of a pair of couples who come together through a holiday home exchange program. The film's endearing Christmas setting, coupled with its strong lead performances from Cameron Diaz, Jude Law, Jack Black, and Kate Winslet, have made it one of the go-to rom coms to watch during the holidays since it debuted back in 2006.
5. You've Got Mail
Heads up, this definitely won't be the last you see of Meg Ryan on this list, but You've Got Mail has most certainly earned its place within the romantic comedy hall of fame since its debut in 1998. The film follows a pair of business rivals who meet online, and unwittingly strike up a romance with one another. Looking back almost 20 years later, You've Got Mail seems oddly prescient in an age when people increasingly get together online.
4. Breakfast at Tiffany's
Despite the fact that it's unquestionably the oldest film on this list by a substantial margin, 1961's Breakfast at Tiffany's has become absolutely iconic in the years since it hit theaters. Centering on eccentric socialite Holly Golightly (Audrey Hepburn) the film follows the protagonist as she courts a young man who moves into her apartment building. The depiction of Golightly has become legendary among moviegoers, and Breakfast at Tiffany's has since become known as Audrey Hepburn's most iconic role.
3. Sleepless In Seattle
Although You've Got Mail is definitely considered a modern classic by fans of the romantic comedy genre, it's Sleepless In Seattle that holds the honor of being the best rom-com collaboration between Tom Hanks and Meg Ryan. The 1993 Nora Ephron-directed romantic comedy follows the story of a woman who hears the radio broadcast of a recent widower one night during a long drive, and then makes it her mission to meet him. Creepy premise, but an amazing romantic comedy.
2. When Harry Met Sally
"I'll have what she's having." That one line sums up the iconography of Rob Reiner's When Harry Met Sally, which has gone on to become a complete classic since it hit theaters in 1989. Telling the story of two polar individuals, Harry Burns (Billy Crystal) and Sally Albright (Meg Ryan), the film follows them as they weave in and out of each other's lives and try to challenge the notion that men and women cannot be platonic friends. Spoiler alert: as they spend more and more time together, they slowly realize that remaining strictly friends may be harder than they thought.
1. Pretty Woman
There you have it; the quintessential romantic comedy in the eyes of the average EliteSingles user is the tale of romance between a businessman and a prostitute in the 1990 film Pretty Woman. A take on the My Fair Lady formula, the Garry Marshall-directed comedy has become iconic in the 27 years since it hit theaters for making Julia Roberts a household name and established her impeccable on-screen chemistry with Richard Gere. It's a timeless classic, and if you haven't seen it then it should instantly rise to the top of your to-do list.
What's your favorite romantic comedy of all time? Give us your opinion in the comments below to keep this dialogue going!
Originally from Connecticut, Conner grew up in San Diego and graduated from Chapman University in 2014. He now lives in Los Angeles working in and around the entertainment industry and can mostly be found binging horror movies and chugging coffee.