Breakfast At Tiffany's 50th Anniversary Blu-Ray Remastered For September Release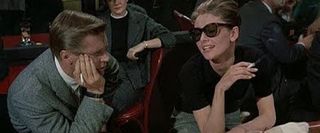 I wish people were more excited about "Moon River." Don't get me wrong, Breakfast At Tiffany's as a whole is iconic. Holly Golightly posters are framed on the walls of many a female fan, and other than it's highly racist character played by Mickey Rooney, it has a spotless record among fans. But for me, "Moon River," is the most intriguing part of the whole undertaking. I could take or leave Audrey Hepburn as an extrovert, and I could live the rest of my life without seeing her dangle a cigarette holder ever so gracefully. But I'm glad I don't have to live without "Moon River." Hepburn had to fight Paramount hard to keep the song in the film, but in the end it won them a Grammy and was then covered by everyone from Sinatra to R.E.M. Now, Paramount Home Entertainment has remastered and fully restored "Moon River," along with the rest of Breakfast at Tiffany's for a 50th Anniversary Edition Blu-Ray.
The film's Blu-Ray debut boasts over 90 minutes of special features. The original theatrical trailer, as well as photo galleries of the film, the production, and the publicity will accompany the movie. Most of the other extras are featurettes including a "Making of" segment and "A Golightly Gathering." Other aspects of the film that are hghlighted included Hepburn as a style icon, the music of Henry Mancini, and yes "An Asian Perspective," devoted to the character of Mr. Yunioshi. Rounding out the special features is commentary from producer Richard Shepherd.
It's too bad Paramount didn't start getting this set together a little earlier. Director Black Edwards only died last December and it would have been nice to have heard from him in the commentary. All in all, the set doesn't sound super special for a 50th Anniversary Edition, but the remastered look could go a long way to change that.
For a refresher on "Moon River," take a look at the video, below.
Your Daily Blend of Entertainment News