The Reason Matthew McConaughey Picked The Dark Tower Instead Of Guardians Of The Galaxy Vol. 2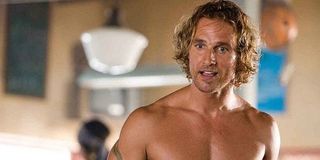 Over the last few years, it has been impossible not to adore Matthew McConaughey. Not only has he wonderfully turned himself into one of Hollywood's most interesting leading man, taking home a Best Actor Academy Award for his performance in Dallas Buyers Club, but he's also been refreshingly honest and unpretentious about his approach. McConaughey has done just that again while discussing the reasons behind picking his role in The Dark Tower over Guardians Of The Galaxy Vol. 2, admitting that he felt he would get more creative control with the part of Walter Padick.
Matthew McConaughey made this admission to Playboy, insisting that while he enjoyed the first Guardians Of The Galaxy film, he didn't just want to be the big name that was brought on to add more glamour to the sequel. He wanted to get into the nitty-gritty of acting with a part, which is what The Dark Tower afforded him. Matthew McConaughey explained:
Clearly director Nikolaj Arcel (A Royal Affair) made quite the impression on Matthew McConaughey when they chatted about The Dark Tower and the role of Walter Padick in it. Loosely based upon Stephen King's series of books, The Dark Tower will blend sci-fi, fantasy, western and horror genres to pit Matthew McConaughey against Idris Elba's Roland Deschain.
Set in a dimension named Mid-World, The Dark Tower follows 11-year-old Jake Chamber who travels there from Earth after discovering and following a series of clues. Once there, he meets the lone frontiersman Roland Deschain, who is on a quest to find the Dark Tower. However a series of monsters and McConaughey's deceiver and sorcerer character block their path.
Despite the rejection of Matthew McConaughey, Guardians Of The Galaxy Vol. 2 is shaping up very nicely, and it's one of the most anticipated movies of the next 12 months. It looks pretty impressive, too, as its first trailers have teased that it will be just as captivating and hilarious as its predecessor. You can check out Guardians Of The Galaxy Vol. 2's latest trailer below.
We don't have much longer to wait until Guardians Of The Galaxy Vol. 2 brings the old gang back together, as it is due for release on May 5th, 2017, which suggests that Marvel Studios have high hopes that it will eclipse its predecessor's box office total of $773.3 million. Meanwhile. The Dark Tower will follow just a few weeks later on July 28, 2017.
Your Daily Blend of Entertainment News
Thank you for signing up to CinemaBlend. You will receive a verification email shortly.
There was a problem. Please refresh the page and try again.