Guardians Of The Galaxy 2: What We Know So Far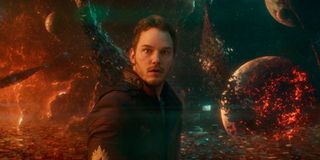 There are no two ways about it: James Gunn's Guardians of the Galaxy turned out to be an absolutely massive hit. Not only did it earn some of the best reviews of 2014, it also turned out to be massively popular with movie-goers and was a box office smash. With all of the buzz going into opening weekend, it was barely a surprise when Marvel Studios announced, before the first film even opened, that Guardians of the Galaxy Vol. 2 would be out in 2017. Now it's easily one of our most anticipated future titles.
Marvel Studios is, of course, very good at keeping details about their in-development projects secret, but every so often a cool little bit of info sneaks out and tells us just a little bit more about the film. That's where we come in. Let's start by taking a look at what we've seen from the film so far by way of its first full trailer:
Below you'll find a compilation of every detail we know about Guardians of the Galaxy Vol. 2 so far, from the returning actors and filmmakers to the series newcomers we can expect to show up. Read on, and learn!
What Is The Guardians of the Galaxy Vol. 2 Release Date?
Of the 10 movies that will be coming out in Phase 3 of the Marvel Cinematic Universe, Guardians of the Galaxy Vol. 2 will be arriving third - following both Captain America: Civil War and Doctor Strange. The first movie to come out as part of Marvel Studios' first calendar year with three blockbusters, the James Gunn-directed sequel will be in theaters on May 5, 2017. The deep space story will kick things off for the year, and be followed by Jon Watts' Spider-Man: Homecoming (July 7, 2017) and Taika Waititi's Thor: Ragnarok (November 3, 2017).
What Is The Guardians of the Galaxy Vol. 2 Rating?
This is not going to blow anybody's minds. Despite the fact that Guardians of the Galaxy Vol. 2 has not yet been fully assembled and brought before a ratings board, we can already guarantee you what the Marvel Studios film's rating is going to be: PG-13. How do we know this? Because every Marvel feature to this point has been rated PG-13, and it's been confirmed by the CEO of Disney that there are no plans to make an R-rated superhero title any time soon.
It's true that James Gunn's first few directorial efforts - including Slither and Super - were both blood-covered affairs that earned hard R-ratings, but we certainly don't expect that for Guardians of the Galaxy Vol. 2. Even beyond the fact that Marvel has no interest in making R-rated movies, making the sequel only for audiences older than 18 would be a serious burn to the younger fans who fell in love with the first movie.
What Will Guardians of the Galaxy Vol. 2 Be About?
If you think back to the months before the release of the first Guardians of the Galaxy, you'll remember that not much was really revealed about the story. Sure, trailers established that Star-Lord, Gamora, Drax, Rocket and Groot would be joining forces while in prison and that their adventure had something to do with a mysterious orb, but that was pretty much it. Such is the case for the sequel, Guardians of the Galaxy Vol. 2.
That being said, various interviews with those involved with the production have offered some hints regarding when the story picks up and the themes of his upcoming film, and they're quite interesting. Unlike most Marvel Studios sequels, Guardians of the Galaxy Vol. 2 won't use real time to caliber how much time has passed since the last movie, and instead will start approximately two months after the end of the 2014 hit. And while we don't know much about the plot other than the fact that it will see Peter Quill a.k.a. Star-Lord (Chris Pratt) reunited with his father (more on that later), we do know that James Gunn's script will hit on important subjects regarding family, where you come from, and how that affects who you are.
James Gunn
Prior to the first Guardians of the Galaxy, writer/director James Gunn never worked on a feature with a budget higher than $15 million, but any and all doubts about him as a blockbuster filmmaker were put to rest with the release of his first comic book movie. Throughout production, Gunn and Marvel got along famously, which is perhaps a big part of why he is back writing and directing Guardians of the Galaxy Vol. 2. The news was made official at San Diego Comic-Con 2014 when the director paired up with star Chris Pratt on a video presentation to announce the project's official release date a few weeks prior to the movie's release.
James Gunn has been very open and accessible to fans throughout the Guardians of the Galaxy Vol. 2's development - writing heartfelt letters, doing live chats, and even sharing crudely drawn storyboards. He has said that he has known for a very long time where a sequel to the first film would go, and in May 2017 we'll finally learn the extent of those plans.
Peter Quill a.k.a. Star-Lord (Chris Pratt)
Peter Quill a.k.a. Star-Lord (played by Chris Pratt) was a womanizing, asshole thief when we first met him as an adult in Guardians of the Galaxy, but he undergoes an incredible arc in the movie that sees him really transform into a mature leader. As firmly established in Gamora's final lines in the first film, he is who the rest of the Guardians are now looking to for guidance as they go on further adventures. On that front, things may be a be difficult, both because of his inexperience and because he happens to be in love with Gamora.
Certainly another more personal conflict for Star-Lord that will be front and center will be his coming to terms with being half-alien. He learned about his special DNA at the end of the first movie, and in the sequel we learn that his dad is none other than Ego The Living Planet (we'll have more on him in a bit). The new film will certainly see Peter Quill not only dealing with the fact that he's not entirely human, but also question whether or not he can actually trust his newly-discovered father.
Gamora (Zoe Saldana)
Gamora (played by Zoe Saldana) has certainly had it rough for her entire life, with her parents being killed right in front of her by a psychotic alien who would wind up raising her as his own daughter. But those dark days seem to be behind her. She has found a new family in Peter Quill, Rocket, Drax and Groot, and she is pursuing her happiness. Of course, just because she may be trying to leave the past in the past doesn't mean that her enemies will do the same. Thanos will be incredibly displeased that his "favorite" daughter has betrayed him to become a hero, and let's also not forget that the dangerous and extremely pissed off Nebula is still around and fighting. We're not sure about the former, as Thanos has not been confirmed for the sequel yet, but we expect a serious showdown between Gamora and Nebula in Guardians of the Galaxy Vol. 2.
Drax The Destroyer (Dave Bautista)
In bringing Drax the Destroyer to life in Guardians of the Galaxy, Dave Bautista not only provided the movie with some of its best laughs, but also many of its most dramatic moments. The hatred and rage that Drax felt towards Ronan was extremely powerful and palpable, and while he ultimately wasn't the one who 100% directly killed his sworn foe (it was a team effort), he certainly got his revenge. The problem is that killing Ronan didn't give him the satisfaction he needed to get over the death of his wife and daughter (this is why revenge is no good, people!).
As Drax says at the very end of Guardians of the Galaxy, all of his attention has now been turned towards Thanos, who he knows has been pulling the strings all along anyway. Will he succeed? It's hard to say at this point, but the characters most certainly do have a history in the comics. It doesn't look like that will be the alien hero's main drive in Guardians of the Galaxy Vol. 2, but James Gunn has at the very least promised that we will learn a bit about the alien warrior "that nobody knows." Right now we can't say specifically what he will be up to story-wise in the sequel, but at the very least the trailers suggest that he will be a close confident for Peter Quill regarding his feelings for Gamora (though it doesn't seem like it's a secret to which he holds on to for very long).
Rocket Raccoon (voice of Bradley Cooper)
We pretty much learn everything we need to know about Rocket's attitude and general outlook on life within the first few moments of meeting him in Guardians of the Galaxy. Making fun of various aliens who are doing nothing more than going on with their day, the diminutive, furry, gun-lover is the exact opposite of a people person, and is as surly as they come. By the end of the film he does even out a bit emotionally by understanding the importance of having other people in his life, but he is still far from a happy camper. He will be along for the ride in Guardians of the Galaxy Vol. 2, with Bradley Cooper returning to provide the voice (and Sean Gunn doing the motion capture work). While we don't know anything plot specific about his arc yet, one big thing will be the fact that he has to deal with some major changes in regards to his best friend, Groot, who has undergone an interesting change...
Groot (voice of Vin Diesel)
He can only say three words (okay, five words), but Groot, the alien tree voiced by Vin Diesel, was still able to create some of the most emotional moments in Guardians of the Galaxy - one of them being his incredible self-sacrifice to save his friends in the third act. Aboard the Dark Aster with the rest of the Guardians as it was crashing down to the surface of Xandar, Groot grew and morphed to become a protective shell for his teammates in order to save them, and he was shattered into a million pieces as a result.
The good news is that it's incredibly hard to kill a Groot thanks to their regenerative powers. At the end of Guardians of the Galaxy, Groot is nothing more than a sapling who enjoys grooving to the sound of the Jackson 5... and he won't actually be fully grown when we see him next. First confirmed at San Diego Comic-Con 2016, Baby Groot is going to be around for quite a while in Guardians of the Galaxy Vol. 2 -- with no memory of events before events on the Dark Aster. As a result of this, the entire universe around him is going to be quite new, requiring Rocket to show him the ropes in every area.
Nebula (Karen Gillan)
If there was any central supporting character in Guardians of the Galaxy that we really want to see more from, it was actress Karen Gillan's Nebula. The character's design and behavior were incredibly badass, but the movie having so much going on didn't allow her nearly enough screen time. Fortunately, we can expect Guardians of the Galaxy Vol. 2 to fix that problem. Ronan and Korath may be dead, but Nebula managed to survive her fight with the Guardians of the Galaxy (albeit minus one cyborg hand), and took off in a spaceship to god knows where.
Will she reunite with Thanos? That question doesn't have an answer yet, but Marvel Studios President Kevin Fiege has made note of the character's importance in certain major comic book arcs that could someday wind up finding their way to the big screen (specifically in The Avengers: Infinity War). Nebula will definitely be back in action for Guardians of the Galaxy Vol. 2, but it's worth noting that she may be having a change of heart evil/good-wise. Artwork for the film suggests that she will be a full-fledged member of the team before the end credits roll, which is an interesting development given what we know about her.
Yondu (Michael Rooker)
There's a seemingly endless number of shockingly entertaining characters in Guardians of the Galaxy, but perhaps the most surprising of them all is the performance given by Michael Rooker as Yondu. Part Boba Fett and part Jabba The Hutt, this blue, mohawked Ravager stole every scene he was in with his Kentucky fried accent and whistle-controlled arrow. Rooker's many years of working with director James Gunn basically insured that Yondu would be back for Guardians of the Galaxy Vol. 2, and he absolutely will be.
So what will Yondu be doing in the blockbuster? Well, he'll actually be joining the ranks of the titular team as a full-fledged member. James Gunn promised early on that the Guardians of the Galaxy roster would change over time, and Yondu is one major addition in Guardians of the Galaxy Vol. 2. We don't know exactly how he winds up joining the team, but one thing we do know is that he will be sporting a brand new prototype head fin that allows him to use his whistle-controlled arrow better than ever.
The Ravagers
As portrayed in Guardians of the Galaxy, the Ravagers aren't exactly good people. Led by Yondu, they're a gang of space pirates who apparently aren't above eating human children. They wound up being allies to the titular team in James Gunn's first blockbuster, helping them and the Nova Corps take down Ronan and the Dark Aster, but it doesn't look as though they will be staying that way in Guardians of the Galaxy Vol. 2.
The first footage from Guardians of the Galaxy Vol. 2 shown at San Diego Comic-Con didn't feature the Ravagers working with the Guardians of the Galaxy, but instead imprisoning Rocket and Yondu and threatening to destroy Groot. We can't say why exactly they wind up turning on their leader and former friends, but we do know that they wind up paying for this misdeed with their lives.
Mantis (Pom Klementieff)
One of the exciting new characters who will be introduced in Guardians of the Galaxy Vol. 2 is the hero Mantis, who will be played by actress Pom Klementieff. In the comics, Mantis was born in Vietnam and was left by her father at a young age at an alien temple to be cared for by Kree priests. They believed the young girl to be a messiah figure destined to be the most important being in the universe, and trained her as a warrior. She is one of the most gifted fighters in the Marvel Universe, as she is not only strong and agile, but has a knack for sensing weak points and exploiting them. As seen in the first full length trailer for the blockbuster, she has a special kind of emotional telepathy that lets her connect with the feelings of others.
Given how much certain characters were changed from the comics in the first Guardians of the Galaxy movie, we can't say exactly how precise the big screen adaptation of Mantis will be in Guardians of the Galaxy Vol. 2 - but have high hopes for how she will be portrayed with James Gunn at the helm. Thus far we've only had a brief glimpse of her, but given the way she immediately manages to hilariously disrupt the harmony among the titular group, we're excited to see what else she's bringing to the table.
Ego The Living Planet (Kurt Russell)
James Gunn said very early on in Guardians of the Galaxy Vol. 2's development that it was never his plan to keep the identity of Star-Lord's father a secret. Darth Vader being Luke Skywalker's dad this isn't. This is why James Gunn was happy to make a big announcement at San Diego Comic-Con 2016 that the alien who helped spawn Peter Quill is none other than Ego The Living Planet.
In Marvel Comics, Ego is literally a planet with a face on it, but the character will be changed ever so slightly for Guardians of the Galaxy Vol. 2, and will be played by the legendary Kurt Russell. Portrayed more as an ancient cosmic being, Ego apparently took a human-like form to be with Peter's mom, which is how she wound up giving birth to little Star-Lord. James Gunn has promised that his blockbuster will explain everything, which is actually driving the movie to be more sci-fi-heavy.
Ayesha (Elizabeth Debicki)
Australian actress Elizabeth Debicki has only been acting on-screen for a few years, making her big screen debut in the Australian comedy A Few Best Men, but she has already managed to land herself some big roles in high-profile films. Thus far this includes The Great Gatsby, Macbeth, The Man From U.N.C.L.E. and Everest, but soon Guardians of the Galaxy Vol. 2 will stand as her biggest film to date.
Debicki will reportedly be playing Ayesha in the comic book movie sequel, which is a pretty big deal. In the comics, she is also known as Kismit, Her, or Paragon, but regardless of what you want to call her, the headline is that she is super powerful. Following the creation of Adam Warlock (who we will talk about more in a bit), Ayesha is the second attempt by a group known as the Enclave to create a super-powered lifeform. Obviously it was successful, and while she was born a man, time in her cocoon revealed her as female. Her powers include the manipulation of cosmic energy, flight, and regeneration abilities so incredible that she's basically an immortal.
Nova Prime (Glenn Close)
Nova Prime, as portrayed by Glenn Close, only had a small role in the first Guardians of the Galaxy, but she currently sits in an extremely important position within the Marvel Cinematic Universe. Not only is she the head of the universe's most elite space police force, but she is also in possession of/guarding one of the six Infinity Stones -- specifically the Power Stone. This, unfortunately, will probably put her in harm's way when Thanos starts to get serious about outfitting his Infinity Gauntlet.
That's likely an Avengers: Infinity War issue, though, and we're here to talk about Guardians of the Galaxy Vol. 2! Part of the reason why we deflect is because right now we really don't know anything about Nova Prime's part in the film -- beyond that she is in it and will probably continue to have a tenuous truce with Star-Lord and his gang of former criminals.
Awesome Mix Vol. 2
While Iron Man has made great use of tracks by AC/DC, no superhero movie has used pop music quite like Guardians of the Galaxy, and it's an element that James Gunn will be bringing back in the sequel. Both an emotional symbol for Star-Lord (the songs chosen by his mother before her death), and a tool to deepen themes from scene-to-scene, the soundtrack is easily one of the most anticipated features of Guardians of the Galaxy Vol. 2, and we're all dying to know what tracks Gunn will be using for the blockbuster.
Thus far, three songs have been confirmed. Jay and the Americans' "Come A Little Bit Closer" will play in a key scene featuring Yondu, Rocket, Groot, and a bit of revenge; the San Diego Comic-Con 2016 footage was set to "The Chain" by Fleetwood Mac; and the first official trailer featured "Fox On The Run" by Sweet. Those are some great hits to start, but we will surely be hearing at least 10 more titles when we watch the film in May 2017.
Taneleer Tivan a.k.a. The Collector (Benicio Del Toro)
The Collector, played by Benicio Del Toro, seemed to be set up as a villain when he was introduced in the post-credits sequence of Thor: The Dark World, but the reality is that he actually played more of a neutral role in Guardians of the Galaxy (unless his sinister intentions were just being well-hidden). He is identified simply as a buyer/museum curator interested in purchasing an Infinity Stone from Gamora. What's not laid out specifically in the film is the explicit danger present in an individual's attempt to collect all six Infinity Stones, however. When combined and put into a glove known as the Infinity Gauntlet, the stones provide the wearer god-like powers over all of existence. In the comics, Thanos is best known for accomplishing this task, but the fact that Taneleer Tivan is interested in completing the collection himself is seriously bad news for the entire Marvel Cinematic Universe.
Unfortunately, if this is going to play out on the big screen, it looks like it's going to have to happen in The Avengers: Infinity War instead of Guardians of the Galaxy Vol. 2. In January 2016, Benicio Del Toro was quoted saying that he hadn't heard anything from anyone from the production - suggesting that he may not have a role in the sequel. It's true that Zoe Saldana talked about working with Del Toro on the movie prior to production, but we don't know if she really knew he was going to be on set. We have our fingers crossed that the Guardians of the Galaxy post-credits scene won't be the last we've seen from the character.
Rhomann Dey (John C. Reilly)
Played by the always-lovable John C. Reilly, Rhomann Dey is one of the main faces of the Nova Corps in Guardians of the Galaxy, and is introduced as having a pre-existing relationship with Peter Quill (though he does mock the future hero for having a code name). By the end of the film, he plays a crucial role in getting the Nova Corps to unite with the Guardians and the Ravagers to help stop Ronan from destroying Xandar. He winds up creating a good friendship with Quill by the end of the movie, but it remains to be seen if that relationship will be strong enough to bring the character back for Guardians of the Galaxy Vol. 2. Hopefully it will be.
Thanos (Josh Brolin)
Ever since the Mad Titan Thanos was first teased in the mid-credits sequence of The Avengers as the mastermind behind the Chitauri attack on New York, we've been aware of his presence. Our awareness grew further with Guardians of the Galaxy, as he was finally mentioned by name and shown to be an incredibly powerful figure in the intergalactic community. So does that mean that Guardians of the Galaxy Vol. 2 will finally be his real time to shine? The answer is no. James Gunn has confirmed that Thanos will only play a part in the sequel if it is determined that he helps out the story, and if not, he won't appear at all. Given that both Gamora and Drax have serious bones to pick with him, it is possible that he could duck his head into the action, but he certainly won't be driving the plot. If he doesn't appear, we'll just have to wait until 2018 for him to take center stage in The Avengers: Infinity War - which will very likely feature Guardians of the Galaxy characters.
Adam Warlock
Those who watched the first Guardians of the Galaxy (and the first post-credits sequence in Thor: The Dark World, for that matter), know that the lair of The Collector included something that looked a hell of a lot like Adam Warlock's cocoon from Marvel Comics. Many took this as a suggestion that the character is going to make his live-action debut in Guardians of the Galaxy Vol. 2 - but it doesn't look like that's going to happen. James Gunn has said that the cocoon definitely looks a hell of a lot like Warlock's, but that its inclusion was merely based on the fact that he thought it looked cool. It's true this doesn't completely rule out Adam Warlock for the 2017 blockbuster, but considering that the film will be introducing Ayesha, he may not be deemed necessary in the sci-fi sequel.
The Avengers
As you may know, Marvel Studios has a bit of a history when it comes to bringing their various franchise characters together. They amazed the world when they did it with Joss Whedon's The Avengers back in 2012; then they did it again with Whedon's The Avengers: Age of Ultron; and most recently they did it a third time with Captain America: Civil War. As a result, it's long been expected that the company will eventually team up the earthbound heroes with those from Guardians of the Galaxy, but you shouldn't expect that to happen in Guardians of the Galaxy Vol. 2. James Gunn has gone on the record many times saying that he doesn't have a real desire to see the two worlds immediately start to collide, and has added that he doesn't see Guardians of the Galaxy Vol. 2 as a roadmap to get his characters to meet up with Iron Man, Thor, Captain America and the rest of the Avengers in the forthcoming The Avengers: Infinity War.
Ronan The Accuser (Lee Pace)
Let's keep this one short and sweet: Ronan The Accuser, brought to life by Lee Pace in Guardians of the Galaxy, is dead as Dillinger. While he was certainly formidable (he honestly made Drax look like a toddler at times), and was basically invulnerable with the power of the Infinity Stone, the Guardians of the Galaxy used teamwork to turn him into purple dust at the end of the movie. It's true that some kind of weird comic book loophole could possibly bring him back into the Marvel Cinematic Universe somehow (maybe in The Avengers: Infinity War), but the reality is that you shouldn't expect him back for Guardians of the Galaxy Vol. 2. James Gunn has even gone on record confirming that it definitely isn't going to happen.