No, La La Land Is Not The Same Thing As The Artist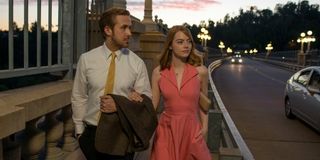 Every year the race for the Oscars becomes a hotly contested competition, and every year we notice quite a few similarities among the contenders. These days we can pretty much always count on seeing a period piece, a biopic of some variety, and at least one film directed by an iconic Hollywood auteur --- to name just a few of the basic archetypes. With the 2017 Oscar ceremony drawing near, this has led many people to disparagingly compare Damien Chazelle's La La Land to Michel Hazanavicius' 2012 Best Picture winner, The Artist. In the face of these constant comparisons, I am here to tell you one crucial thing: La La Land is not this year's version of The Artist. Now, if you will indulge me, I would like to explain.
The comparisons between La La Land and The Artist typically take the form of Twitter-based criticisms. These critiques point out that both films are obvious forms of Oscar bait and that both films likely won't resonate with audiences long after their respective releases -- which has become a standard commentary of The Artist since its big win in 2012. Those appear to be the two most prevalent negative sentiments floating around the Internet about these two films, so for the sake of argument we will stick with those.
Let's get the similarities between La La Land and The Artist out of the way, because they do exist. The comparisons drawn between these two films are not baseless. They're simply woefully misguided. Both films are nostalgia-drenched romantic comedies that honor classic Hollywood traditions, and both follow a pair of Los Angeles-based dreamers as they navigate the rocky path of love and fame. Those are the similarities, and that's where they end.
One of the most fundamental differences between these two movies is the stylistic approach taken by each film's director. In La La Land, Damien Chazelle tells a timeless love story in the style of a classic Hollywood musical. By contrast, The Artist is a love letter to a bygone of silent black-and-white filmmaking that just happens to feature a love story as its driving narrative force. The tale of Sebastian (Ryan Gosling) and Mia (Emma Stone) and their struggling to balance their love with their dreams is the core of La La Land's appeal. On the other hand, the driving force behind The Artist is its fundamental visual style. The romance between George Valentin (Jean Dujardin) and Peppy Miller (Berenice Bejo) is simply a means by which to keep that force moving in a coherent direction, but the real love story is the one between the film and the era it depicts.
That stylistic difference cuts to the biggest disparity between La La Land and The Artist, and it's the thing that will make La La Land endure for years to come: its timeless and empathetic core. For all of their singing and dancing, Sebastian and Mia are just like every member of the audience. They live, hope, and dream in a contemporary world just like ours, and they have to contend with the very same heartbreak that we cope with on an everyday basis. On the other hand, the characters in The Artist are caricature by design; they're quite literally silent movie characters living inside the world of a black and white film. One could say that La La Land's musical numbers make it "Oscar bait," but that shows blatant disregard for the amount of artistry involved in putting those sequences together so immaculately, and it completely ignores the very human center of the story in the form of Ryan Gosling and Emma Stone.
At the end of the day, I don't think La La Land will go the way of The Artist. I believe it will endure for years to come because it's a far richer and more emotionally vibrant movie than its supposed predecessor. The Artist's charm faded because it captured a very specific moment in time perfectly; La La Land will persist because it feels completely and utterly timeless. No, La La Land is not the same thing as The Artist. It never was, and it never will be.
Your Daily Blend of Entertainment News
Originally from Connecticut, Conner grew up in San Diego and graduated from Chapman University in 2014. He now lives in Los Angeles working in and around the entertainment industry and can mostly be found binging horror movies and chugging coffee.
Your Daily Blend of Entertainment News
Thank you for signing up to CinemaBlend. You will receive a verification email shortly.
There was a problem. Please refresh the page and try again.