Jerry Maguire's Anniversary Is Celebrated By The NFL In The Best Way Possible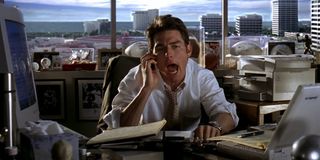 As hard as it is to believe, Jerry Maguire actually turned 20 years old this past year. The Tom Cruise-fronted romantic comedy has become iconic among movie fans in the two decades since it first hit theaters, but it is also incredibly popular among sports enthusiasts for the way in which in depicts the athlete-agent dynamic. To properly celebrate that legacy, the NFL has released a fake documentary called Rod Tidwell A Football Life. It coincides with the anniversary DVD release of Jerry Maguire on January 3. Check it out below and prepare for a serious blast from the past.
The NFL officially released that video (opens in new tab) to honor the legacy of Jerry Maguire on its 20th anniversary, and I'll be damned if it doesn't make me want to watch Jerry Maguire right now. The clip frames Rod Tidwell's iconic game as a receiver for the Arizona Cardinals as a real event from the 1990s, and features color commentators remarking on the hit that Cuba Gooding Jr.'s character takes towards the end of the movie. If you have already seen Jerry Maguire, then you already know that this initially dramatic moment leads to some serious success for Rod Tidwell, and the fake documentary serves as an excellent tribute to his life as one of the all-time greats. Not for real, but you get the idea.
Ultimately, the video is a hilarious (and oddly touching) tribute to a moment in cinematic history. Jerry Maguire has become endlessly iconic in the years since it debuted in theaters for a number of reasons. For starters, it established legendary lines such as "show me the money," "you complete me," and "you had me at hello," which at least one of your friends has probably quoted to death at some point. Beyond that, the role of Rod Tidwell famously helped Cuba Gooding Jr. win an Oscar win in 1997 -- a moment that quickly became instantly memorable when the actor took the stage and gave one of the most hilariously energetic and passionate speeches in the history of the Academy Awards. To put it bluntly: Jerry Maguire is a watershed moment, not just in the history of movies or sports, but also in the annals of pop culture as a whole.
The NFL tribute video even found time to include Jay Mohr's smarmy Bob Sugar in on the action with some less than savory words for Mr. Tidwell.
And, of course, since this video is a total nostalgia-drenched trip back to the 1990s, a certain rapper by the name of Vanilla Ice obviously had to make an appearance. Why the hell not?
If there's one downside to this touching tribute, it's the fact that A Football Life isn't a real documentary. I would watch the hell out of that. The 20th anniversary Blu-ray edition of Jerry Maguire is currently available; make sure to check it out!
Originally from Connecticut, Conner grew up in San Diego and graduated from Chapman University in 2014. He now lives in Los Angeles working in and around the entertainment industry and can mostly be found binging horror movies and chugging coffee.
Your Daily Blend of Entertainment News
Thank you for signing up to CinemaBlend. You will receive a verification email shortly.
There was a problem. Please refresh the page and try again.