What Jerry Maguire Actually Wrote In The Mission Statement That Got Him Fired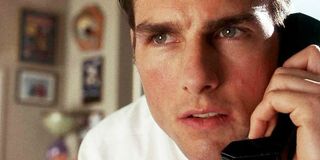 2016 marks the 20th anniversary of Tom Cruise's Jerry Maguire. The drama about a sports agent who has a breakdown earned several Oscar nominations in 1996, including a win for Cuba Gooding Jr. for Best Supporting Actor, and has been remembered if for no other reason that it's an incredibly quotable film. The catalyst for all the film's action is a Mission Statement which Tom Cruise's character writes which ends up getting him fired. As it turns out, writer/director Cameron Crowe actually wrote the entire document back then, and it's just been published in its entirety. Now we know why Jerry lost his job.
The Mission Statement was called "The Things We Think And Do Not Say" and it's 25 pages of stream on consciousness from the mind of the lead character Jerry Maguire. We only get the briefest bit of the document done as voice over as Jerry is hammering it out in the middle of the night, but there's a great deal more here and now we wish the film had spent more time dealing with the document. The Uncool has published all of it.
The first thing one notices is that great chunks of the Mission Statement don't even deal with aspects of being a sports agent. It's full of "random facts." Each one has a number, but they're in no particular order.
The random facts don't appear to be connected to anything other than, as an agent, Jerry Maguire spends a lot of time in airports, as do, one expects many of the other people who will be reading this.
What truly comes through, however, is that Tom Cruise's character did once love his job, and he wants to again. He got into it because of the people, and he believes that making the business about the people again can lead to greater success for everybody.
Of course, it's all also a business, and in the end that comes down to money. Jerry Maguire doesn't give money much concern here, and that's his ultimate downfall.
The idea of intentionally having fewer clients is the part that ultimately leads to Jerry Maguire losing his job and starting over on his own. Fewer clients means less money and nobody wants a guy working for them intentionally bringing in less money.
In the end "The Things We Think And Do Not Say" is worth reading if only to get a glimpse at the amount of work that was put into a fairly small part of the movie. However, it's also funny, strange, and possibly a little touching.
Your Daily Blend of Entertainment News
Content Producer/Theme Park Beat
CinemaBlend's resident theme park junkie and amateur Disney historian. Armchair Imagineer. Epcot Stan. Future Club 33 Member.
Your Daily Blend of Entertainment News
Thank you for signing up to CinemaBlend. You will receive a verification email shortly.
There was a problem. Please refresh the page and try again.