Star Wars: The Last Jedi Might Visit This Strange New World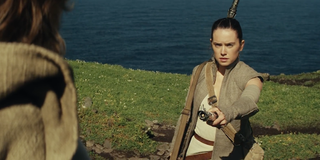 With the exception of revisiting key locations like Tatooine and Coruscant, each Star Wars movie has introduced multiple new worlds to the franchise. The different environments is part of what makes the franchise so appealing; in a galaxy far, far away, you can bring in colorful and unusual places to make this fictional universe feel more alien, but also more exciting. Star Wars: The Last Jedi won't be any exception. Along with returning to Ahch-To, it's been reported that a casino planet will be featured, and today brings added information about a world described as "Mars with snow on it."
The folks over at Making Star Wars have heard that this snow Mars world will be an integral planet in Star Wars: The Last Jedi. The planet's set did indeed have a red ground covered with a light layer of snow, "especially on the banks and rim of a hallway-sized trench." This world also bears some resemblance to Starkiller Base, as there is "Death Star-style architecture" that is mixed in with the natural environment. While not confirmed, it was also mentioned how The Last Jedi's shooting at salt flats in Bolivia may have been used as a realistic environment to double for part of this world.
While that was all the article provided in terms of specific details, Making Star Wars went on to speculate that this world may be controlled by The First Order and house one of its secret bases. Going even further, they brought up the idea that this may be where General Hux and Kylo Ren went following Starkiller Base's destruction, and once there, they'll reunite with Supreme Leader Snoke. Again, these elements aren't confirmed, although there was a "Snowtrooper General" spotted on the set for a scene that sounds like something that was shot at the Bolivian salt flats.
Much like how the first Death Star's destruction wiped out a significant portion of the Empire forces in A New Hope, The First Order lost a lot of its people when Poe Dameron destroyed Starkiller Base in The Force Awakens. However, Kylo Ren and Hux were able to get off it just in time. From there, they were insructed to come back to Snoke so that Kylo could complete his training. While it isn't 100% guaranteed that the "Mars with snow" world will be a First Order stronghold in The Last Jedi, it would make sense. Even with Starkiller Base at its disposal, The First Order would have kept other secret locations, and on one of those is where Snoke would maintain a low profile and keep track of the organization's operations from afar. Assuming this is the case, don't be surprised if this is also where we see a climactic showdown (akin to Bespin in The Empire Strikes Back) involving Rey and/or Luke going up against Kylo Ren, Snoke and possibly more members of the Knights of Ren.
Star Wars: The Last Jedi will be released in theaters on December 15.
Connoisseur of Marvel, DC, Star Wars, John Wick, MonsterVerse and Doctor Who lore. He's aware he looks like Harry Potter and Clark Kent.
Your Daily Blend of Entertainment News
Thank you for signing up to CinemaBlend. You will receive a verification email shortly.
There was a problem. Please refresh the page and try again.