How Much Benedict Cumberbatch Worked Out For Doctor Strange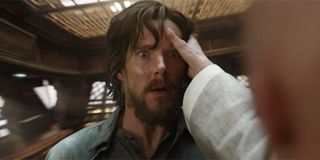 You have to be in tip-top shape to portray a Marvel superhero. Just look at Chris Pratt, who underwent a remarkable transformation that turned him from the portly comic relief in Parks And Recreation to the uber-fit star of Guardians Of The Galaxy. The svelte Benedict Cumberbatch didn't have to undergo as much of a shift in the weight for his leading role in Doctor Strange. Instead he had a different problem to contend with, as the English actor had to squeeze in his training between shooting and performing theater at night.
This remarkable revelation was made as part of the DVD extras for Doctor Strange, with Benedict Cumberbatch's co-star Mads Mikkelsen, who plays the villain Kaecilius, divulging that the English actor's scheduled was rather hectic around the time of production. Mads Mikkelsen explained:
It wasn't just Mads Mikkelsen that was in awe of Benedict Cumberbatch's preparation for Doctor Strange in the face of such a hectic calendar. Executive producer Charles Newirth also opened up about the immense amount of training the Sherlock and Imitation Game actor went through in order to get into the right condition for the rigorous shoot. In fact, Charles Newirth admitted that Benedict Cumberbatch actually went above and beyond his call of duty, and was repeatedly reminded that he had a stunt double for some of the more dangerous shots. Newirth said:
This is just the beginning for Benedict Cumberbatch's strenuous activities as Doctor Strange, though. That's because the 40-year-old is set to reprise his role as the Sorcerer Supreme in Thor: Ragnarok later this year, while he's already confirmed to appear in both Avengers: Infinity War, which recently just started production, and the still-untitled fourth Avengers film, too.
Plus, considering that Doctor Strange was both a monster hit critically, as it scored a 90% approval rating from critics on Rotten Tomatoes, and grossed the humungous amount of $675.9 million at the box-office (which was more than Iron Man, Thor, Captain America, The Hulk and Ant-Man's first solo outings), it's probably safe to assume that a sequel is already in the pipeline over at Marvel towers.
You can watch the full clip of Doctor Strange's cast and crew waxing lyrical about Benedict Cumberbatch's athleticism by clicking below.
We'll next see Benedict Cumberbatch as Doctor Strange when Thor: Ragnarok is released on November 3, while Avengers: Infinity War will follow on May 4, 2018.
Your Daily Blend of Entertainment News
Thank you for signing up to CinemaBlend. You will receive a verification email shortly.
There was a problem. Please refresh the page and try again.