Despicable Me 3 Trailer: Check Out Gru's Brother In Great New Footage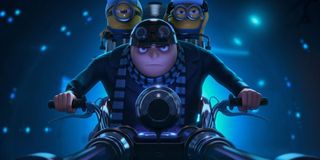 The Despicable Me franchise has tried a lot of different things since the first movie premiered back in 2010. Mostly, fans have fallen in love with the silly minions, but they also like reformed villain Gru, who looks as if he will be encouraged to return to villainy in the upcoming Despicable Me 3 movie. Encouraging him is none other than Gru's long-lost twin brother Dru. You can check out the interesting new dynamic with the brand new Despicable Me 3 trailer, below.
The first thing you should know about newbie Dru is that he's pretty much been a mystery leading into this trailer. Although some concept art had been floating around, Despicable Me 3 had been careful to only tease the fact that Dru would be coming. Now, we have a full-blown view of Dru. He's Gru's more successful twin brother. He's richer, he's handsomer and he has a lot more cars than Gru has. Gru's wife, Lucy, also seems to find him at least a little bit swoonworthy, and who can really blame her?
The two brothers may dress differently and live different lifestyles, but as Dru makes sure to note to Gru, they have the same blood and the same liking for villainous acts. Steve Carell is pretty great in this particular trailer, revealing how he changed voices slightly to do the voice work for both brothers. A big part of me honestly wishes that Universal had held any footage of Dru until the premiere of the movie, but as the addition of a new character does add some anticipation for the new production, I begrudgingly understand why the company went this route.
Of course, while this trailer proves the two twins will get up to some mayhem, Dru isn't the villain of this movie. Instead we learned a few months ago that Trey Parker had been cast as the villainous Balthazar Bratt. Really, the only question left now is whether or not Despicable Me 3 will be able to outpace the other two namesake properties, along with Minions, which made over a billion dollars at the box office. Unfortunately, we have a while to wait before this question will be answered.
Despicable Me 3 is not hitting theaters until this summer, but you will finally be able to catch it on June 30, 2017. In the meantime, you can learn more about the flick or take a look at our list of what is heading to theaters.
Reality TV fan with a pinch of Disney fairy dust thrown in. Theme park junkie. If you've created a rom-com I've probably watched it.
Your Daily Blend of Entertainment News
Thank you for signing up to CinemaBlend. You will receive a verification email shortly.
There was a problem. Please refresh the page and try again.