How Much Emma Watson Could Actually Make For Beauty And The Beast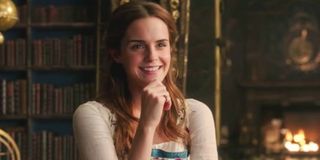 Just in case you didn't realize that being an actress can potentially be very profitable, it now emerges that Emma Watson could pocket as much as $15 million for her work as Belle in Beauty And The Beast. There are a few stipulations in place before Emma Watson can take that preposterous amount of money of home, though, but it has already been confirmed that the former Harry Potter actress was paid $3 million upfront to portray the bookworm.
According to The Hollywood Reporter, Emma Watson's pay-day will become five times larger if Beauty And The Beast can get close to Maleficent's box office haul. There's a good chance that will be the case, too, because Beauty And The Beast got off to a storming start at the box office when it was released this weekend. In fact it has already blossomed into something of a phenomenon, grossing $350 million across the world in its opening four days, which is already just under half of the $758.5 million that Maleficent grossed overall when it was released in the summer of 2014.
In comparison, Maleficent made just $175.5 million across the world in its opening weekend, which suggests that Beauty And The Beast should at least be able to match its predecessor, and is actually already on course to eclipse it. Beauty And The Beast is still yet to be released in nine other territories across the world, too, while the next week will give us a better indication about how just far, wide and deep its appeal will be. Considering that the original estimates for Beauty And The Beast's opening weekend were somewhere in the region of $120 and $140 million domestically, and it easily managed to bash past those totals, it's clear that box office experts are going to have to increase their estimates for the film's final amount
With Maleficent's box office haul already well in sight, Emma Watson is probably going to need to pick up at least one more piggy bank to house her impending payment. It's not as though the 26-year-old was struggling to get by, though, because Watson is believed to have pocketed around $60 million for her performances as Hermione Granger in the eight Harry Potter films. Since then, Emma Watson has focused on more independent and smaller budgeted films, which don't pay anywhere near as much. Beauty And The Beast not only sees her pulling in the mega bucks again, but it also increases her stature and puts her up there as a bona-fide A-list Hollywood actress, which means there will be plenty more where that came from.
Emma Watson's payday will be music to the ears of those linked with the raft of future Disney live-action adaptations, which will next see Mulan being released on November 2, 2018, and includes many more reinterpretations on the way.
Your Daily Blend of Entertainment News