Whoops! Turkish City Accidentally Broadcasts Audio From Porn Movie Through Neighborhood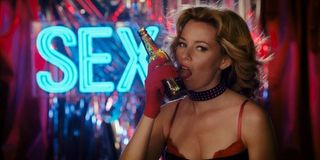 In the Turkish town of Kastamonu, loudspeakers are used to impart messages and send out Muslim prayer calls to the public in neighborhoods all over the city. However, recently in the neighborhood of Kuzeykent, the loudspeakers over the weekend were used for a different purpose: to broadcast audio from a pornographic film. Reports indicate at least the one neighborhood was affected by the porn noise, which means lots and lots of people were privy to the audio.
The broadcast tore through the neighborhood at 1 a.m. in the morning last Wednesday, and currently no one knows who is responsible or why porn was chosen to go out over the loudspeakers at an unseemly hour. However, per Hurriyet Daily News, investigators think the perpetrators intercepted the municipality frequency rather than the main system, which is probably why the pornographic noise did not get broadcast everywhere.
It did get captured on video, however. If you'd like to know what porn being emitted from loudspeakers sounds like, you need look no further than this video, which is rather graphic and probably NSFW, at least in terms of all the moaning. I guess all of the juvenile laughter about the porn kind-of covers up the other porn noise, though. Give it a watch if you are in an appropriate place.
The Mayor of Kastamonu, Tahsin Baba?, took to social media to declare that the city was not responsible for the unseemly content that was broadcast, so according to him this was not a snafu on the city's part. He also said that the city was looking into what happened and planned legal consequences for the perpetrators. That is, if the porn broadcasters are ever caught by those investigating. We can't imagine Turkey is happy about this development, considering this is a country that banned the movie Nymphomaniac for being too porn-like.
Porn is frequently an interesting topic, and the topic comes up in the unlikeliest of places, including porn being found in Osama Bin Laden's compound or Korean men being tasked with watching American porn. Porn searches are also a big deal, to the point they are ranked yearly by groups like Pornhub. Obviously, porn is on a lot of people's brains a lot of the time, but that doesn't mean people were happy that porn was broadcast in the middle of the night over loudspeakers. We'll let you know if the pranksters are ever caught. In the meantime, Netflix is preparing its own porn documentary, and you can check out the trailer for that.
Reality TV fan with a pinch of Disney fairy dust thrown in. Theme park junkie. If you've created a rom-com I've probably watched it.
Your Daily Blend of Entertainment News
Thank you for signing up to CinemaBlend. You will receive a verification email shortly.
There was a problem. Please refresh the page and try again.