The Top 10 Porn Searches Of 2016, According To Pornhub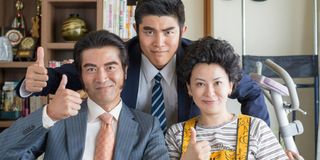 Well, the new year is finally here. I'm sure you all have lots on your to-do list for 2017, but before you get all caught up in making things happen in the new year, it can be nice to take a look back and reflect on what 2016 had to offer. And, what would that kind of heartfelt reflection be like without looking into Pornhub's list of top searches for 2016? A whole lot less fun, that's what that reflection would be like. Don't we all need more fun this year? Well, CinemaBlend has you covered. Let's take a look at last year's Top 10 Pornhub searches.
10. Japanese
Up four spots from 2015 to finally make it into the Top 10 is the search term Japanese. Why, you ask? Wrong question, my friend. You should be asking, "Why not?"
9. Massage
Landing in the same spot as the year before, massage was again in the Top 10. Mmmmm...oh...yeah....right there...
8. Hentai
Do you see those adorable anime school girls above? Well, they have nothing to do with hentai, which has now cracked the Top 10 after moving up three spots. Don't know what hentai is? Well, for the love of all that is holy, please don't Google it! Some of us should be able to stay pure.
7. Cartoon
Down three spots from 2015 is the search for cartoon. And, we all get it. There are some hot ass cartoons out there. Go get your animation on.
6. Mom
Clair Huxtable understands and appreciates your warm, warm thoughts, which helped her ilk land at the same spot as in 2015.
5. Step Sister
Up two spots from 2015 is the search for step sister. Sounds like some people had stressful family gatherings at the holidays for a very interesting reason.
4. Teen
Searches for teen appear on the list again this year, but it's down two spots from 2015. I want to say that this means girls in short skirts were slightly less popular, but that just doesn't sound right.
3. MILF
A hot mamma is a hot mamma, and folks loved MILFs even more in 2016, seeing as how the search went up two spots in popularity. I think we can all agree that there's nothing quite like some MILFy goodness, right?
2. Step Mom
Moving up one spot in 2016 was step mom. Those family dinners are AWKWARD.
1. Lesbian
In the least shocking news of 2017, the search term lesbian is at the top of the charts for the second year in a row. There's two of everything this way, so, enjoy the bounty my friends!
Yennefer's apprentice, Gilmore Girl; will Vulcan nerve pinch pretty much anyone if prompted with cheese...Yes, even Jamie Fraser.
Your Daily Blend of Entertainment News
Thank you for signing up to CinemaBlend. You will receive a verification email shortly.
There was a problem. Please refresh the page and try again.