Dark Tower Footage Just Premiered At CinemaCon, And It Looks Badass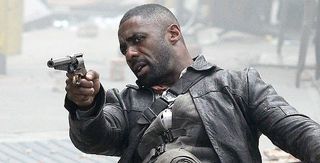 Stephen King fans have spent years waiting for The Dark Tower movie. Over the years it's developed in fits and starts -- often built with huge franchise expectations -- but it was only last year that director Nikolaj Arcel officially started principal photography on the blockbuster. Now the movie is just a few months away from release, and while no trailer has officially come out yet, tonight we got our first look at some debut footage.
The annual theater owner convention known as CinemaCon is currently going on in Las Vegas, and it was tonight during Sony Pictures' big studio presentation that the first ever clips and scenes from The Dark Tower were shown. I was one of the lucky people to be sitting in the audience during the event, and I have to say that what I saw did quite the effective job of blowing my hair back.
Set in the woods, the footage began with a panicked and clearly injured Roland Deschain (Idris Elba) pointing his two guns in random directions -- looking for a target. Though we can't see who is speaking, we hear the voice of The Man In Black (Matthew McConaughey), who does his best to make his foe give up, telling him that the war is over and that he can't even save himself let alone anyone else. Finally making eyes on his target, he announces "I don't kill with my gun; I kill with my heart," and fires a shot at the back of The Man In Black, who is walking away from him. Without any sense of worry, The Man In Black reaches behind him, catches the bullet, and continues, saying "The Tower will fall, Roland."
This showdown is interrupted by our first look at Jake Chambers (Tom Taylor), who suddenly wakes up in bed startled to find that his bed is shaking. In a scene with a therapist, Jake is asked about the visions that he sees, and tells the doctor about a shadowy man and the image of a Dark Tower than protects the universe (these descriptions accompanied by dark charcoal drawings). The therapist tells him that these are just dreams, but this point is somewhat unwritten by the fact that the entire office begins to quake similar to what was happening in Jake's bedroom.
We then see Jake in the street holding a drawing he's done of a house -- and he seems surprised to discover that the exact same house is standing in front of him. While it's definitely abandoned, the teenager goes in anyway, and as he walks the walls and floor begin to move. Eventually he discovers what can only be described as a portal, and after leaping out of it finds himself in a desert landscape with a giant ringed planet on the horizon. It's here that Jake runs into Roland, and he immediately recognizes him as "The Gunslinger" -- noting that he's had dreams about his acts of bravery saving a town. As Roland is quick to point out, however, that was no dream.
After some quick shots of glowing-gun action, we hear Roland explain his relationship with The Man In Black (who we see walking through the same portal from before, only leaving his world and entering ours). The Gunslinger notes that as long as The Man In Black is out there, "the Tower will fall and hell will follow." The footage then featured all kinds of crazy action, from Roland loading his six-shooters with insane speed, the Man In Black holding some kind of strange glowing ball. One of the big action pieces had Roland charging at the Man In Black and shooting glass that freezes before piercing the villain. As the glass is about to be redirected Roland's way, we watch in slow motion as he tosses two sets of full chambers in the air, catches them in his guns, and fires.
The last scene of the Dark Tower footage featured Jake being nabbed by a freaky looking dude and whisked away during panic in a small village. A woman approaches Roland about the abduction, and the Gunslinger asks for quiet. He takes in the world around him with his eyes closed, listening to the universe. He hears droplets of blood, a wrench hitting a pipe, and finally the sound of Jake's feet being dragged. Roland slowly raises his gun without looking and fires, and while the bullet has to travel through a window and a blanket on a clothes line, it eventually strikes the kidnapper in the head and puts him down dead.
As someone who has never read Stephen King's Dark Tower books, I can't say that I was entirely aware of exactly what was happening at all times during the footage, and it didn't exactly provide a full explanation of the plot -- but I was still impressed by what was presented. Slow motion gun reloading is admittedly a tad played out at this point, but the movie definitely has a special sense of style, and just the power of Idris Elba and Matthew McConaughey as performers has me enticed by the relationship between Roland Deschain and The Man In Black.
Even though The Dark Tower is currently scheduled to arrive in theaters this summer -- on July 28th to be precise -- we sadly still don't know when official footage is scheduled to finally arrive online. That being said, you can be sure that we will have full coverage of The Dark Tower trailer when it does finally arrive, so be sure to stay tuned in the coming weeks!
Your Daily Blend of Entertainment News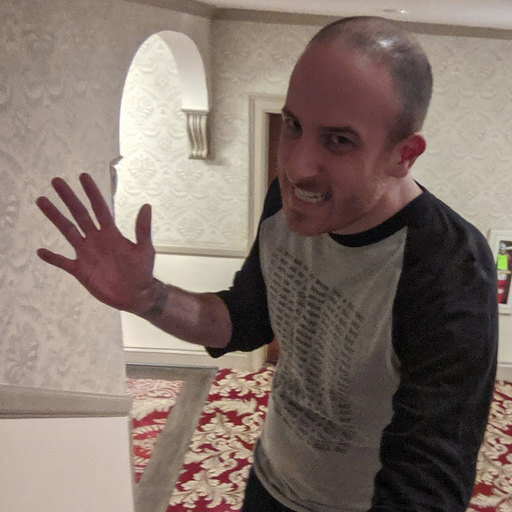 Assistant Managing Editor
NJ native who calls LA home and lives in a Dreamatorium. A decade-plus CinemaBlend veteran who is endlessly enthusiastic about the career he's dreamt of since seventh grade.