Pirates Of The Caribbean 5 Finally Gives Us Our Best Look Yet At Orlando Bloom And He's Creepy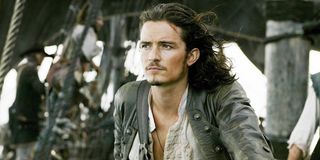 Jack Sparrow may be the main character in the Pirates of the Caribbean movies, but when the film series launched in 2003, it wasn't without other important protagonists. For the first three movies, one of Sparrow's regular companions was Will Turner, who had the pirate blood running through him thanks to his father Bootstrap Bill Turner's escapades. When we last saw Will in 2007's Pirates of the Caribbean: At World's End, he'd succeeded Davy Jones as the Flying Dutchman's immortal captain, and a decade later, he's finally to the series in this summer's Pirates of the Caribbean: Dead Men Tell No Tales. Thanks to a new preview, we have our best look yet at Orlando Bloom's character, and his appearance is much more in line with the rest of the Flying Dutchmen crew now. In other words, he looks creepy.
While the above shot was briefly glimpsed in a previous trailer, the latest preview for the fifth Pirates of the Caribbean installment spends a few seconds focused on Will Turner, who, despite not aging, now has some barnacles encrusted on his face like the men he commands. Will was still fresh-faced in the At World's End post-credits scene, which took place 10 years after the main events of the movie, but I guess you can't hold back the more sea-themed elements of this curse forever. As for whose face Will is touching, that's almost certainly Brenton Thwaite's character, who was finally confirmed earlier this week to be Henry Turner, Will's son. Presumably then this is the first time that Will has seen his son in over a decade, though we still don't know yet exactly how their paths will cross in Dead Men Tell No Tales.
You can watch the new Pirates of the Caribbean: Dead Men Tell No Tales preview, called "Pirate's Death," in its entirety below.
Will Turner spent most of the original Pirates of the Caribbean trilogy as a normal human (well, aside from his blood being able to break the Black Pearl curse), but near the end of At World's End, he was mortally wounded by Davy Jones, and the only way to save his life was to have Will stab Jones' heart and then place his own heart within the Dead Man's Chest. With Jones finally dead, Will became the captain of the Flying Dutchman, meaning he has the responsibility of ferrying deceased souls to the afterlife. No longer able to live with his new wife Elizabeth Swann anymore, they consummated their marriage before he left to fulfill his nautical duties, and the curse only allows him to reunite with her once every 10 years. Judging by the sip setting in this Dead Men Tell No Tales preview and how integral Henry Turner will be to the story, we can deduce that Henry will see his father again while adventuring with Jack Sparrow on the Seven Seas, but how the father and son reunion will turn out won't be clear until folks are seated to see the final product.
Pirates of the Caribbean: Dead Men Tell No Tales hits theaters on May 26.
Connoisseur of Marvel, DC, Star Wars, John Wick, MonsterVerse and Doctor Who lore. He's aware he looks like Harry Potter and Clark Kent.
Your Daily Blend of Entertainment News
Thank you for signing up to CinemaBlend. You will receive a verification email shortly.
There was a problem. Please refresh the page and try again.