How The G.I. Joe Franchise Is Going To Change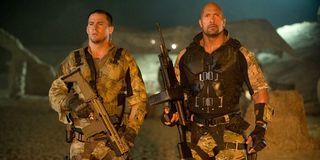 It has been four years since the last G.I. Joe film was released to modest box office success, something that Hasbro is obviously now looking to inflame by incorporating a "contemporary approach" to the franchise that's aimed at enticing a younger audience. Simon Waters, who works at Hasbro as the head of its consumer products, has insisted that this decision was made because the world has changed so much in recent years, while he also added further details about the changes that are heading G.I. Joe's way, which includes introducing new characters. Simon Waters explained,
It's not really a surprise that the G.I. Joe franchise is going to undergo something of a revamp. Mostly because we heard similar speculation from Simon Waters himself just a couple of days ago, as he explained that G.I. Joe 3 would introduce a "different kind of Joe," one that is still able to resonate with the many, many fans of the franchise but is also able to attract "an uninitiated audience" as well as "expand the audience internationally and domestically."
The G.I. Joe franchise has never really performed quite as well as Hasbro hoped. The series actually kicked off back in 2009, and even though G.I. Joe: The Rise Of Cobra only grossed $302.5 million across the world from a budget of $175 million, as well as receiving mixed reviews, Hasbro decided to persist with a sequel. G.I. Joe: Retaliation fared a bit better when it was released four years later, partially because its budget was reduced to $93.6 million and because it managed to haul in $375.7 million. Considering the fact these films were based on a popular intellectual property and also included the likes of Channing Tatum, Joseph Gordon-Levitt, Bruce Willis, and Dwayne 'The Rock' Johnson, these were undoubtedly disappointing numbers.
The problem for G.I. Joe, though, is the behemoth success of Hasbro's other main franchise, which just so happens to be Transformers. Together, Cobra and Retaliation's gross comes in at $678.2 million, which even when combined is less than Transformers' $709.7 million total back in 2007, and that's the lowest amount any installment to the series has ever made at the box office.
Simon Waters' comments to the LA Times prove that Hasbro has now decided there is a better way for G.I. Joe to tap into the potential audience for the franchise. Previously there were rumors that Hasbro might crossover G.I. Joe and Transformers, but that plan has now clearly been put to one side, especially since Transformers is set to kick off its own new universe with The Last Knight this summer and then the impending Bumblee spinoff. (More on upcoming movies here.) Now the focus for G.I. Joe is to try and tow the line between making future films reflect the current world that we live in, while still making sure that it pays homage to its past and the beloved universe and world that it derives from. We'll have to wait and see how that works.
Your Daily Blend of Entertainment News
Thank you for signing up to CinemaBlend. You will receive a verification email shortly.
There was a problem. Please refresh the page and try again.