That Time Kenan Thompson Was Hired For A Movie The Night Before Shooting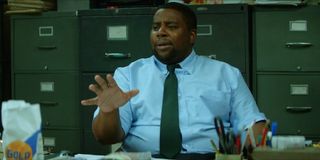 Being an actor is a grueling and torturous experience. Usually you have to prepare and then audition for weeks, sometimes even months, before you're just considered for a role. But things were much simpler for Kenan Thompson when it came to starring in Going In Style. That's because the Saturday Night Live alumni was called up and offered the part on a Monday, went in to shoot on the Tuesday after, and by that night he was basically done. When asked about how he became involved in Going In Style, Thompson explained:
Well, that might be the easiest case of an actor getting a job, just about doing enough preparation to succeed and then turning up to film that I've ever heard. Kenan Thompson made this admission to me when I spoke to the comedian over the phone about Going In Style. Despite the ease with which he got the part, Thompson clearly made an impression on the iconic trio of actors that led the film, because also revealed to me that Michael Caine told him, "Young man, you have got it."
Kenan Thompson doesn't actually have that big a role in Going In Style, as he plays a grocery store manager who confronts Michael Caine, Morgan Freeman and Alan Arkin after they're caught shoplifting in his establishment. However, much like his co-stars Joey King, Matt Dillon, Ann-Margret, Christopher Lloyd, John Ortiz and Peter Serafinowicz, Thompson is able to light up Going In Style in just a couple of scenes. But it's still very much Morgan Freeman, Michael Caine and Alan Arkin who steal the show. You can see for yourself by watching the trailer for Going In Style below.
Meanwhile you can also read my review for Going In Style here, and you'll be able to appreciate the jovial heist comedy when it's released on April 7.
Your Daily Blend of Entertainment News
Thank you for signing up to CinemaBlend. You will receive a verification email shortly.
There was a problem. Please refresh the page and try again.