Want To See Christian Bale Play Dick Cheney? It Could Happen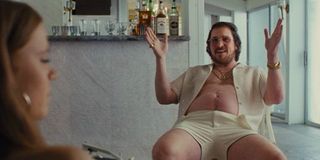 After one Oscar win and two further nominations Christian Bale is clearly one of the most talented actors working in Hollywood today. But he is going to have to stretch his prestigious talents to the extreme with his next role, though, because it has been reported that the Welsh actor is in talks to portray the former United States Secretary Of Defense and the 46th Vice President Of The United States, Dick Cheney.
If he decides to sign on to the dotted line for the still-untitled Dick Cheney biopic, it's going to mark something of a reunion for Christian Bale. That's because writer and director Adam McKay, who directed Christian Bale to one of his Oscar nominations in The Big Short, has written the screenplay and will direct it, too.
It's not just Adam McKay and Christian Bale who will be reuniting on the proposed film. That's because Steve Carell, who also featured in The Big Short and previously starred in the two Anchorman films that were written and directed by Adam McKay, has already agreed to portray Donald Rumsfeld. Meanwhile, Variety's source have also confirmed that The Fighter and American Hustle's Amy Adams will join the party as Lynne Cheney, which if true means that the film will have one of the stand-out casts of the year. McKay is developing the film through his Gary Sanchez Production company, while Brad Pitt's Plan B is also on board, and, if all goes according to plan, it will eventually be released through Paramount Pictures.
The companies involved clearly have high hopes for this project, because they are hoping to get it into production at some point in the spring, which would then allow them to give it a huge awards-season push. This would see it follow the same trajectory as The Big Short. Adam McKay's take on the economic crisis of 2008 not only went on to gross $133.3 million at the box office, it was also nominated for five Academy Awards. Writers Adam McKay and Charles Randolph were lucky enough to pick up the Best Adapted Screenplay Oscar for their work.
Dick Cheney is one of the most divisive political figures in modern history. As Vice President, he was heavily involved in the George W. Bush administration's response to the September 11 attacks, which also saw him coordinate the Global War On Terrorism. Dick Cheney previously served roles in the administrations of Richard Nixon and Gerald Ford, and was CEO of Haliburton, while Adam McKay has recently confirmed that he has been spending his days researching the political figure.
Adam McKay has also been busy trying to convince Christian Bale to sign onto the project, and even though he's clearly quite close to doing just that, he should remember that the actor originally agreed to take the titular role in Steve Jobs before dropping out. But if Christian Bale decides to stay the course, then the combination of his potential performance as Dick Cheney and Adam McKay's irreverent approach to the film will make it a must watch.
Your Daily Blend of Entertainment News
Thank you for signing up to CinemaBlend. You will receive a verification email shortly.
There was a problem. Please refresh the page and try again.