How Adam McKay Hopes To Contribute To Ant-Man And The Wasp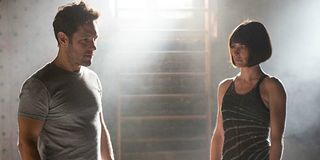 Adam McKay leapt to Ant-Man's rescue back in May, 2014, when Edgar Wright dropped out of production. While Peyton Reed was brought in to replace Wright as director, it was McKay and Paul Rudd's hiring as screenwriters that helped to give Ant-Man a unique, comedic edge. With The Big Short, which he wrote and directed, McKay's career has taken a more dramatic turn, but he still admits that he wants to be involved in Ant-Man's follow-up, Ant-Man And The Wasp. In fact, he's worked out exactly how he can contribute.
Adam McKay told Vulture that he'd love to return to the Marvel Cinematic Universe by helping to script Ant-Man And The Wasp, but only once Marvel and their team of writers have sorted out exactly what they want to do with the sequel.
It says quite a lot about Adam McKay's stature in Hollywood that Marvel would be willing to work out the structure and plot for Ant-Man And The Wasp before then having the Anchorman, The Other Guys, and Talladega Nights funny-man step in and then pepper it with his humor. But, it worked wonders on Ant-Man, and helped to lead the film to its impressive $519.2 million box office haul.
Clearly, Adam McKay is very interested in returning for the sequel though. This isn't the first time that McKay has declared his hope that he'll be involved in the film in some fashion. In fact, as Cinema Blend reported back in November, McKay has already spoken to Paul Rudd, Ant-Man's co-writer who also took the lead role of Scott Lang, about ideas for the follow-up, while he enthused that he "loved working with Marvel."
Adam McKay's return to Ant-Man And The Wasp could actually be rather important to the film's success. Peyton Reed's return has already been confirmed, while Paul Rudd, Andrew Barrer, and Gabriel Ferrari were announced as the film's writers just last month. If McKay can work his particular magic on the script, then the ingredients that led to the original's success will all be involved again. We'll see if Ant-Man And The Wasp can match the impressive, if not unanimous, Ant-Man reviews when it is finally released on July 6, 2018.
Your Daily Blend of Entertainment News